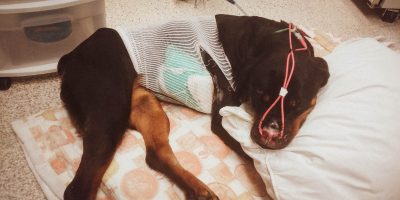 While many of us exchanged candies and cards on Valentine's Day, Stella, a two-year-old, female Rottweiler, fought for her life. What was meant to be a night complete with heart-shaped bones and extra kisses from her owners, ended up being one filled with smoke, firefighters, and an oxygen mask.
On the evening of February 14, 2019, Stella was brought to the Michigan State University Veterinary Medical Center's Emergency and Critical Care Medicine Service (ECCM) by the Lansing Fire Department after she was rescued from a house fire. According to a neighbor, Stella was too afraid to leave the house at first. But she mustered the courage and escaped; that neighbor later found Stella near the fire. Stella's owners, who were not home when the fire occurred, were unknown at the time Stella was admitted to MSU. Later, the owners found out through the fire marshal that Stella was at the Hospital and immediately joined her there.
"Our first thought when she arrived at the ECCM was to stabilize her," says Rose Wahl, licensed veterinary technician for the ECCM. Upon arrival, Stella was hooked up to oxygen right away. "From our prior experience with burn victims, we knew the biggest problem would be her lungs and breathing. So, Stella was immediately put on IV fluids and placed on 100 percent oxygen to help her breathe," says Wahl.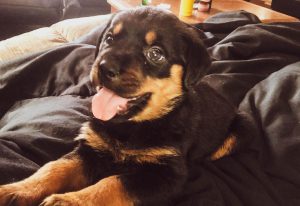 Stella's diagnoses included smoke inhalation and possible secondary pneumonia, second- and third-degree burns that covered 10 percent of her body—head, nose, ears, hind end, and worst of all, on the side of her body—and ulcers and scars in her eyes.
Stella spent the next two weeks at the Hospital to recover and be treated for her severe injuries. "As an animal owner," says Wahl, "my heart broke for these owners, who had lost everything in the fire, and now had to helplessly watch as their dog struggled and fought for her life for the next two weeks."
Stella wasn't alone in the fight, though; she had frequent visitors. One of her visitors was a firefighter from the team that rescued her. He brought her a rawhide bone and some chew toys to keep her busy. "We are so thankful for everyone who went above and beyond to make sure Stella was as comfortable as possible, and just for being understanding," says Madison Darmer, Stella's owner.
Though she often was occupied by visitors and toys, Stella clearly was in a lot of pain—but not enough pain to let the fire get the best of her. "Stella's will to live was amazing; she never gave up or quit fighting. Her resilience and strength astounded everyone who worked with her," says Wahl. "Stella is one of the bravest and strongest patients I've ever encountered. Not only did she show incredible endurance and resilience, she maintained a sweet and kind attitude throughout her stay at the Hospital."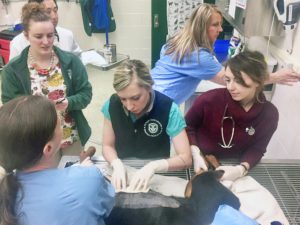 On Saturday, March 2, Stella—and a long list of at-home recovery instructions—left the Hospital. "Though she originally was fearful of her students, nurses, and veterinarians, by the end of the two weeks, she wagged her tail, licked everyone's hands, and was always excited to see us," says Wahl.
Stella didn't have to leave her new friends at the Hospital for long; frequent recheck appointments are part of her recovery plan. "When she comes in for rechecks, she saunters through the Hospital, looking for the friends she made while she was here."
From Fire to Water: How a Special Donor and Fish are Helping Stella Heal
Stella has a challenging journey ahead of her, one accompanied by regular visits to the Hospital and experimental procedures. One such procedure involves fish skins.
Due to the severity of Stella's burns and the damage they did to her skin, especially along the right side of her rib cage, the Hospital's Soft Tissue Surgery Service recommended skin grafts—de-scaled icelandic cod skin grafts. Though they're less traditional than a gauze, fish skin has been used to treat severe burns in human victims. "We had to get creative to treat her burns; there was significant trauma to her lungs, so she wasn't a great candidate to sedate heavily or anesthetize. These grafts were able to be placed with minimal sedation and allowed us to heal her without putting her fragile lungs, or other areas of her body, under additional stress," says Brea Sandness, DVM, intern for the Hospital's Soft Tissue Surgery Service.
These cod grafts, which can be changed as often as the burn requires, will be absorbed by Stella's body until granulation tissue grows around her damaged skin, and the tissue regenerates, covering the wound and reducing scarring. Not only are the cod bandages more effective than medication, they cut down on healing time, which will allow Stella to return to normal life much sooner. And for Stella and her owners, a bonus is that the de-scaled icelandic cod skins were a very generous donation by the company that manufactures the product in Iceland themselves, Kerecis.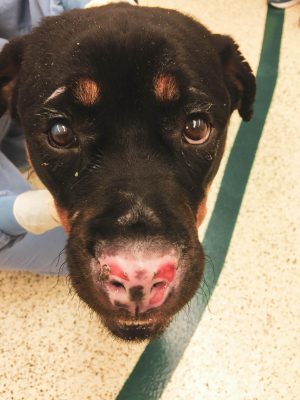 "I would love to say thank you so much to everyone, especially the donor of Stella's cod skins," says Darmer. "Sometimes, it takes such a tragic event to realize how blessed we actually are."

It's been a little more than a month since the fire, and Stella is doing well. "She is improving every day and has made such great progress. She's starting to be the loving, hyper puppy she was before," says Darmer. "She's a little bit different since the fire; she's more cautious and gets tired more easily. However, she is still the energy in the house!"
Though Stella is no longer in critical care, she still visits the Hospital's Soft Tissue Surgery Service and all her friends at least once a week for bandage changes and cod skin graft checks. "I feel lucky to be able to be a part of the team that has worked so hard to help Stella. She's been fighting so hard to live and, in turn, is inspiring all of us at the Hospital with her sweet attitude during such a traumatic experience," says Wahl. "Many people have pulled together to help to her; from the Hospital's Business Office and her veterinarians, nurses, and students, to her caretakers, the many people who brought her special treats during her stay, and those who have already contributed to her expenses, Stella has restored our belief in kindness. It's refreshing to see so many people's hearts touched by a tough, little Rottweiler with a big heart, strong will, and wiggly tail."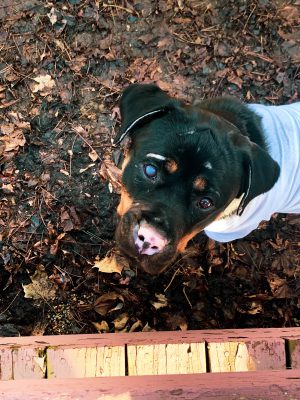 The Hospital's team had the same effect on Stella's owners. "Our experience at the MSU Veterinary Medical Center has been awesome; everyone is comforting and understanding with all that my family and I and Stella have going on," says Darmer. "Everyone treats Stella like she's their own and always keeps us informed. Thanks to MSU's love and care, we gave Stella the will to live!"

Stella has worked with Drs. Teresa Stastny, Julie Pfeifer, and Grady Bailin of the Michigan State University Veterinary Medical Center's Emergency and Critical Care Medicine Service (ECCM). She also has worked with all the ECCM licensed veterinary technicians, veterinary assistants, students, and caretakers. In addition to the ECCM, Stella is a friend of the Hospital's Soft Tissue Surgery Service's team, which includes Drs. Bryden Stanley and Brea Sandness, and Licensed Veterinary Technicians, Monica Krentz and Monica (Mo) Foreman.