Kyle Kansman, DVM Class of 2022, has a passion for wildlife rehabilitation. He's had numerous experiences in the field working with animals at conservation centers, and along with classmate Maddie Chilcote (also DVM Class of 2022), he hosts A Walk on the Wild Side: A Veterinary Podcast.
Wildlife rehabilitation has taken Kyle all over the United States, from Michigan where he is a student at the MSU College of Veterinary Medicine to Alaska, and from California to Florida. He shares photos from along his journey, along with his thoughts on his own experiences.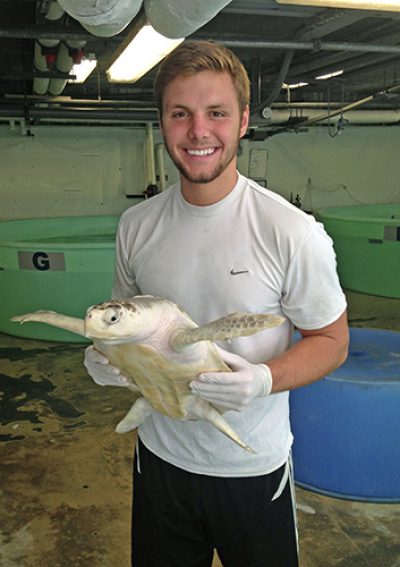 "My passion for wildlife rehab started early on in my life and so, during my undergrad education at Alma College, I traveled down to Mote Marine Laboratory and Aquarium in Florida to be a part of their sea turtle rehabilitation program. This little guy in the photo is a Kemp's Ridley Sea Turtle, which is the rarest sea turtle species, and they are critically endangered. Being able to play a part in this sea turtle's journey back to the wild was incredibly special for me and something I hope to continue to do for the rest of my life."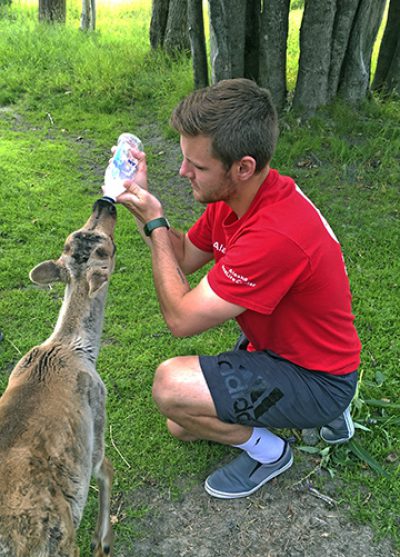 "During my time in Alaska, I was able to go down to the the Alaska Wildlife Conservation Center to experience the amazing work they do firsthand and assist in caring for the wildlife at their facility. That summer, they were raising a caribou calf and providing intensive care to make sure the calf had a successful future. So naturally, when they asked if I wanted to bottle feed this little guy, I said yes!"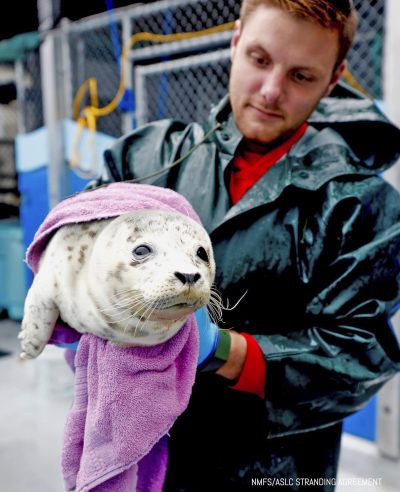 "After my first year of veterinary school, I traveled up to Seward, Alaska to work in the wildlife response and rehab program at the amazing Alaska Sealife Center (ASLC). While at the ASLC, I worked with the staff to rescue injured or stranded seals and sea otters and provide them with critical medical care. Not only did I learn an incredible amount of information during my time in Alaska, but so many of these wild animals' stories moved me. To this day, the background on my laptop is of a harbor seal pup, just like the one in this photo, who fought to survive each and every day of his life until he lost his fight after battling with seizures of unknown cause during his last few days at the center. His death broke me, but he helped open my eyes to discover a part of me that I needed to see. He has reminded me, during my journey through veterinary school, to keep pushing forward and fight for the things that I want no matter the impediments. So, I will continue to strive to make myself the best veterinarian I can be, and when I graduate in 2022, he'll be right there with me, in my heart, as I grab that diploma."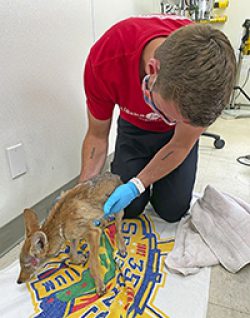 "In between my 2nd and 3rd year of veterinary school, I drove across the country to work in a wildlife rehab center in California with my best friend and fellow classmate, Maddie Chilcote (who's my cohost for the special segment The Couch Conversations on the podcast). While working at the rehab center, this coyote pup touched my heart and became the inspiration for the logo design of mine and Maddie's podcast, A Walk on the Wild Side: A Veterinary Podcast. This pup struggled with lower motor neuron disease, a neuromuscular disease characterized by non-ambulatory flaccid tetraparesis, most often beginning in the hindlimbs, and progressively extending to involve the forelimbs. Exact etiology was undetermined, but highly suspected to be due to the protozoal parasite, Neospora caninum. After extensive care and physical rehabilitation (as pictured), she eventually regained her ability to walk and was successfully released back into the wild months later. Her perseverance and recovery was unbelievably inspiring and her story continues to push me to fight for every animal, no matter the odds."