Editor's Note: In Spring 2020, the Veterinary Technology Program's name changed to the Veterinary Nursing Program.

After graduating from the Michigan State University College of Veterinary Medicine's Veterinary Technology Program in May of 2018, Katie Starken began work as the sole licensed veterinary technician at the Michigan State University Training Center for Dairy Professionals at Green Meadow Farms.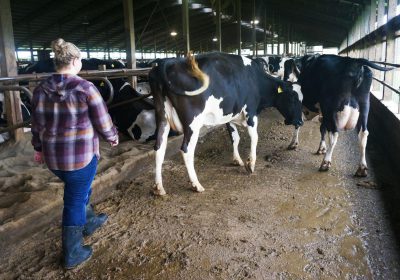 Why did you decide to pursue a career as a veterinary technician?
I had numerous pets growing up, but it wasn't until I was old enough to join 4-H that my passion for veterinary medicine grew. During the 10 years I was involved in 4-H, I had the opportunity to raise and show sheep, swine, and beef cattle. It wasn't until my last couple 4-H years that my passion for working with food animals grew. I was advised that large animal veterinary technician positions were few and far between, but I was still determined to follow my passion and achieve my goal of becoming a large animal veterinary technician.
What was it like being a veterinary technician student?
Like riding a roller coaster! I constantly felt like I was climbing a never-ending hill of knowledge, trying to retain every little bit of information, and then dipping down to low points, where I questioned if I studied enough to pass my exams. The two years went by quickly, and at the end of that crazy roller coaster, I was amazed and proud I had completed a challenging and very rewarding program.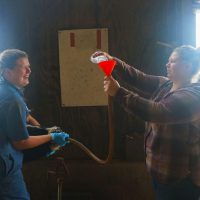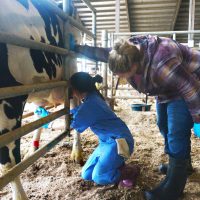 What is the most important thing you learned as a student?
Everyone makes mistakes. It's what you learn from those mistakes and how you adapt that will help you better yourself and make you a better veterinary technician.
How did your education in the MSU Veterinary Technology Program help prepare you for a career as a veterinary technician?
I feel like the Program prepared me very well for the real world. When I graduated, I was fully prepared to hit the ground running and handle any challenges thrown at me. My first job was working at a small animal walk-in clinic; four months after that, I began working at Green Meadows. The staff at both the clinic and Green Meadows were impressed with my technical skills and how quickly I picked up on protocols.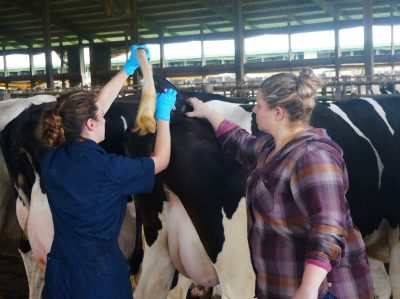 What's the most important thing you've learned since graduating?
There is never just one way of doing things. It's important to always be open to learning new techniques to help better yourself and better the field of veterinary medicine.
How did you end up working at Green Meadow Farms?
When I was a veterinary technician student, I got to pick one elective clinical rotation. It was a very easy decision to go to Green Meadows and work with the dairy cows. After spending three weeks working with the doctors, veterinary students, and farm staff, I knew that was where I wanted to be.
What is your role at Green Meadow Farms?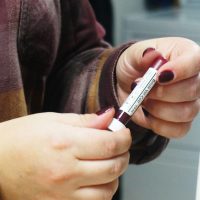 Before the students arrive in the morning, I have a list of daily tasks to do including helping read and record milk culture plates. I'm also responsible for all aspects of the lab area, such as daily cleaning, stocking, re-ordering supplies, and making surgical packs. I restock boot wash and hand wash stations, print paperwork for any new patients, and feed the hospitalized cows.
Once the students arrive, I am responsible for helping supervise and assist while they perform physical exams on sick cows. After the veterinarians round with the students on their cases, I help the students complete their treatments. Once treatments are done for the morning, we either do classroom work or surgeries, depending on the day.
Every day is different. I never know how many sick cows or calves will need treatment. Each situation can be challenging based on the temperament of the animal, the severity of the case, and the students involved.

What do you think is the most misunderstood thing about being a veterinary technician?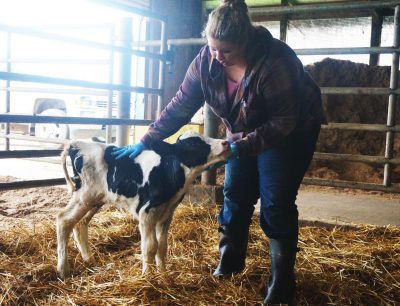 The public has a lack of knowledge about what a veterinary technician does on a daily basis and also what we are capable of doing. Most people, when they hear "vet tech," think we are just an assistant to the veterinarians. Indeed, we are the veterinarian's assistant, but we also are capable of much more. On any given day, we are an anesthesiologist, radiology technician, lab technician, phlebotomist, dental hygienist, and surgical technician.
What do you love most about being a veterinary technician?
What I love most about being a vet tech is working as a team to diagnose and treat sick animals. I find that working with any animal and being their advocate is the most rewarding part of my job!