The MSU College of Veterinary Medicine's Shelter Medicine Club brought in MHS doctors and employees to give presentations about working in shelter medicine. This relationship grew into the opportunity for this internship for the College's DVM students. Sara Lindo, DVM class of 2021, talks about her experience interning for the Michigan Humane Society (MHS) in Detroit for eight weeks.
Why did you choose to pursue this internship?
What Sara Loves About Shelter Medicine
I love that shelter medicine is insanely challenging and amazingly rewarding. I love the variety of cases that come into the shelter, and I love the creativity and ingenuity everyone displays in solving them. I love the fact that we make a difference every day in the lives of people and animals in the city of Detroit. I love the success stories and the tenacity and heart of so many of our patients. I love to see our work bring new family members into homes. I also love the people I get to work with—shelter employees and volunteers are truly some of my favorite people! It's hard to miss the compassion, guts, and sense of humor I get to see on display daily from all of them.
I love shelter medicine. Since I began my veterinary journey, I've felt very strongly that I wanted to pursue shelter work, and that it was something I could be good at. I looked at this internship as a way to confirm that this is where I'm supposed to be.
I'm happy to say that it's been an affirmation of my desire to be a shelter veterinarian, and also an important opportunity to familiarize myself with what working in a large urban animal shelter is like. In a way, it's getting to test-drive my future a bit!
What was the day-to-day of the internship like?
The great thing about this internship is that we get to do something a little bit different every day. True to shelter medicine, few days are ever exactly alike, and they all present unique challenges. We see such a wide breadth and depth of cases—we get a variety of injuries and diseases—and we get to see, and sometimes participate in solutions to them. It's a little bit of internal medicine, herd health, surgery, and behavioral health all rolled into one! We also get a surprising variety of species—shelter medicine is not just dogs and cats! I've spent time with rabbits, birds (domestic and wild), and even young calves this summer.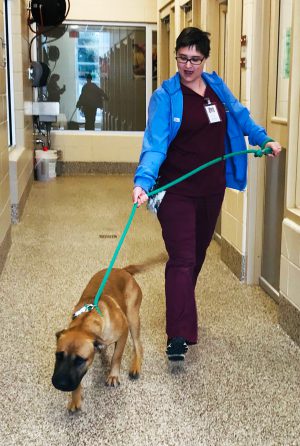 Some days, you get to work in surgery, where you get practice things like prepping and recovering patents. Also, we get to observe a range of procedures like spays and neuters (of course), dentals, and even amputations. One of the coolest things I've gotten to do in surgery was scrub in for a leg amputation and get to help position the patient for the surgeon. It was really awesome to get to be right up close—sterile-field close—and get to participate like that!
Other days, we may be working in dog or cat care, which involves helping to feed, medicate, and assess pets for adoption. We get to practice hands-on and physical exam skills and even get to remind ourselves of some very important pharmacology information.
We also have days that we work with the triage person, who helps intake and assess animals brought in from our dedicated animal rescue team. This job is similar to working in emergency medicine and probably leads to some of the most interesting shifts. You can never predict what might come in, and you are often one of the first people at our facility to see it.
We all have dedicated mentors that we discuss our ongoing skills goals with, and they help facilitate opportunities for us to see or practice specific procedures and skills. Because our group consists of both second- and third-year veterinary students, as well as pre-vet students, our goals are all unique and personal. This summer, I've gotten to practice drawing blood, prepping surgical patients, physical and behavioral exams, and setting up and interpreting lab tests.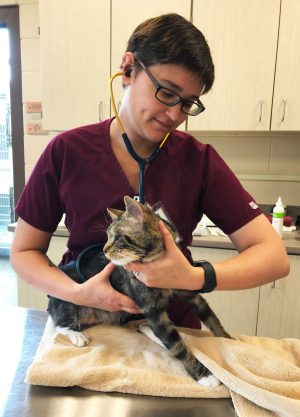 What is your favorite part of the internship?
It's hard to say because I love so much about it, but probably the fact that we've really been welcomed and trusted to help out with so much. Also, that our mentors and other MHS personnel have taken an interest in us and helped us get unique opportunities and experiences within the shelter. Everyone has been excited to work with us and they're very supportive. It's also been great to affirm my love and enjoyment of this field.
Also, probably all of the kittens. We take care of lots and lots of young kittens—it's kitten season, after all!
How did you decide to become a veterinarian?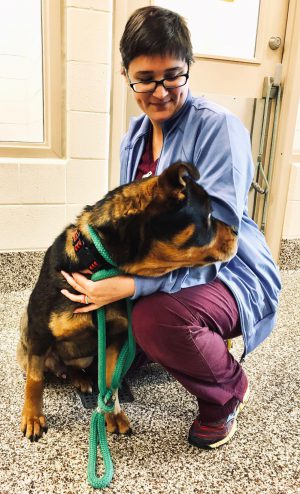 My bachelor's degree is a BFA with a concentration in Illustration and, before deciding to pursue veterinary medicine, I spent six or seven years trying to build a creative career. I struggled to really gain any professional traction or sustainable income from the projects I worked on, so I had various day jobs to be able to work on and promote my art. During a period of unemployment in 2010, I took a volunteer photographer position with an NYC feline-specific rescue group (Kitty Kind). It started as a way to maintain routine in my life, but became something much more than that.
As time went on, I continued to become more involved in the organization, and by the end of my time in NY, I wore several different cat-themed hats, including cat care, assisting with adoptions, and various record keeping duties. The funny thing about all of this is that I had never really considered myself a "cat person" before—I grew up with dogs. Volunteering at KK made me realize that I might actually enjoy working with animals for a living, and that there were career paths out there that might suit me better than the one I was currently on. I struggled to find a job locally that would let me do that, however, and realized I needed to return to school if I wanted to make a further impact in the lives of animals.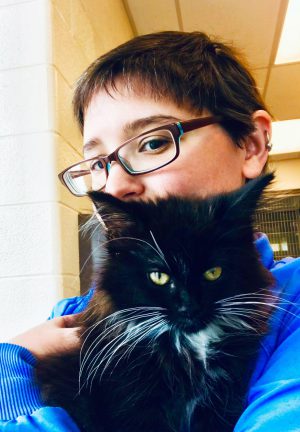 I went back to school officially in 2014—my husband knew I was serious about veterinary medicine when I started voluntarily taking serious college-level math courses! Because my original degree was in fine arts, there were many, many science and math prerequisites I had to complete before I could apply. It was a long path, with lots of moments of doubt, but I thought about all of the animals I would be able to help if I could just concentrate on passing this exam, or that class, or complete a few more hours of shadowing and volunteering.
I knew I wanted to be a veterinary professional when I saw how they had the knowledge and skills to change lives and bring comfort to animals and people in need. It was a seed that was planted a long time ago when I was much younger, but didn't sprout until I was old enough (and wise enough) to understand the importance of what veterinary professionals do.