Ewe births quadruplet lambs in Detroit and is brought back to health at MSU
By guest blogger Laura Orthwein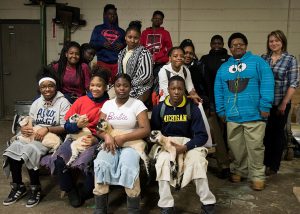 At 3:00 a.m. on Sunday, March 6, 2016, Martha, a 4 year-old Columbia ewe, went into labor. Three hours later, she gave birth to quadruplet lambs, something that happens in the breed only once in every 500 births.
The extraordinary birth didn't take place in a barn in the country, but at Pingree Farms, a non-profit urban farming initiative in Detroit. The farm provides schoolchildren with opportunities including animal husbandry and participation in MSU-sponsored 4-H programs.
Martha initially nursed the four lambs, but couldn't keep up with their nutritional needs. When the ewe began to show signs of exhaustion, Pingree Farms called their farm veterinarian, Tim Shacht, to the farm. When she didn't respond to on-farm treatment, she was transferred to the MSU Veterinary Medical Center.
The clinicians that treated Martha were Drs. Lisanne Gallant, Marc Kinsley, Jamie Kopper, and Melissa Esser, and third year DVM students Scott Henderson and Samantha Pasmanter.
The ewe was diagnosed with mastitis, an infection of the breast tissue, and with the metabolic disease rumen acidosis, caused by a drop in the pH of the rumen. The fall in pH has two effects. First, the rumen stops moving and the muscles weaken, depressing the appetite. Secondly, the change in pH affects the rumen flora and acid-producing bacteria take over.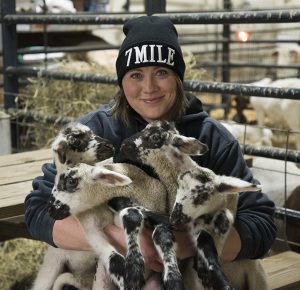 Her first night in the hospital, Martha received IV fluids, vitamin B1, and ruminant feed supplement every hour. The next day, clinicians gave her healthy donor ruminal fluid through a gastric tube. This provided her rumen with healthy and functioning flora. The next day, Martha was taken off the IV and was able to be discharged.

"Drs. Copper, Kingsley, and Gallant provided Martha with great care," said farm manager Holly Glomski. "Dr. Gallant made sure we received regular updates on her progress."
The ewe still needs some assistance, so the Pingree Farms staff and partner groups are helping in general care. Pingree 4-H Club members, along with eighth grade students from Bethune, Nolan, and Burns schools, are working to make sure every lamb gets enough to eat. They are bottle feeding the lambs with milk replacement—not something many school kids from big cities get an opportunity to do.
The four Columbia and Suffolk mixed breed lambs are thriving, and their mom is doing great, too.
"This is a very rare experience in agriculture for this particular breed of sheep," Glomski said. "Typically they give birth to twins. Quads are really an overachievement."
You can see a video of Martha and her lambs, and read more about their story on the Pingree Farms blog.