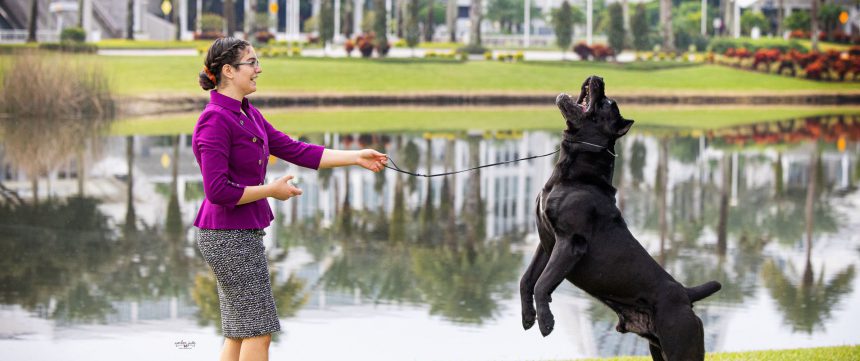 We all try to give our pets lives that are fit for a king or queen; some pets give back tenfold.
Royal the Cane Corso is one of them.
Royal is a five-year-old Cane Corso who is loved by the family of Dr. Ayalla Ruvio, associate professor of marketing in Michigan State University's Broad College of Business. Her daughter, Lihi, 15, shows Royal in national dog shows, and together, they have attained many accolades and titles.

While Royal has an impressive list of titles and achievements, what makes him truly extraordinary is being a lifesaving participant in the Canine Blood Donor Program at Michigan State's Veterinary Medical Center for the past four years.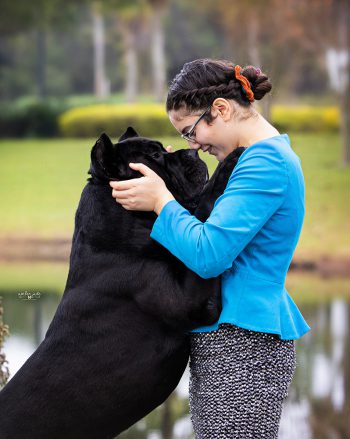 What makes the contribution of Royal and the other 70 dogs enrolled in the Donor Program is the fact that although dogs have 13 blood types, only one of them is truly universal. One donation from Royal can used to save up to four dogs— over 25 dogs a year!
About Royal
Known affectionately as "fuzzy boy" when he was a pup, Royal was born at the Ruvio's home as a little ball of fluff—though quickly grew to a massive 145 pounds in size.
"Royal is as big in heart as he big in size," says Ruvio. "He is truly a gentle giant."
He is ranked the number one American Kennel Club Owner-Handler Cane Corso for the years 2019, 2020, and 2021; Silver Grand Champion; breed winner of the 2019 and 2020 National Owner-Handled Series Top 10, among other placements. He also a therapy dog and has an impressive list of working dog titles.
Outside of competition, Royal is big on having fun.
"Some of his favorite things to do are playing with his huge ball, lure coursing, and chasing squirrels," says Ruvio. "Anything that has to do with running around and being a goofball."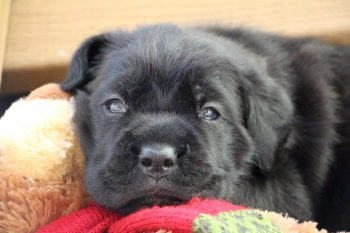 About the Donor Program
The Blood Donor Program uses approximately 400 units of canine blood and over 100 units of feline blood each year. Royal is one of 70 donor dogs; the Feline Blood Donor Program has five volunteer kitties. On average, donors give blood about six times a year in exchange for complimentary bloodwork, an annual physical exam, and either a credit with the Veterinary Medical Center or a 40-poud bag of dog food for every donation.
"Not only do our donors save the lives of emergency patients, but they also help animals with regularly scheduled surgeries or who have certain conditions whose treatments rely on blood or plasma donations," says Rose Wahl, LVT, head of the Donor Program. "A single donation can be used to help up to four other animals."
The blood donation process for dogs is similar to how it goes for humans. Dogs are brought onto a table and guided into lying on their sides. After their fur is trimmed and the skin cleaned around the needle site, the needle is inserted. Once the blood is collected, the donor sits up, is bandaged, and is rewarded with heaps of praise, treats, and some play time.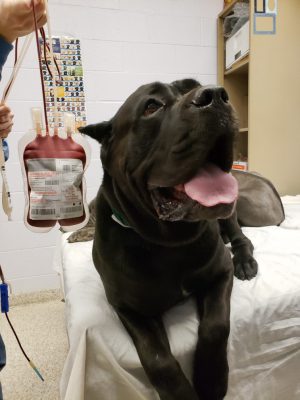 According to all who know him, Royal is a delight when he visits the medical center to donate—and at all other times. He brings a smile to everyone's face as he walks down the hall to donate, wagging his tail and turning the heads of all the staff and students with his good looks and friendly, happy demeanor.
"He loves everyone, and everyone love him," says Ruvio. "He will approach you and will put his big head in your lap asking you to pet him."
Any healthy dog over 50 pounds is welcome to join the Donor Program.
"I would like to encourage other owners with big dogs to participate in the program," says Ruvio. "Pets can save lives too!"
For more information on the Canine Blood Donor Program, see here.