Research administrator Colette Zulu is the winner of the 2021 Krehbiel Distinguished Staff Award.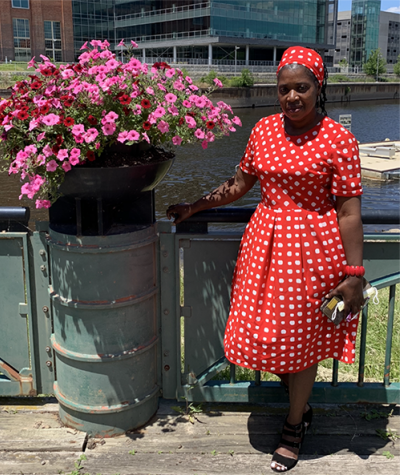 Created by Dr. Janver and Mrs. Linda Krehbiel, this award is granted to a staff member who exemplifies excellence in overall job performance and has outstanding interpersonal skills and working relationships that contribute to the overall climate, morale, and professionalism of their unit or department. Winners of this awards also are noted for the innovative and valuable service they offer their unit, department, or College as a whole.
Colette Zulu was lauded by her team at the College's Office of Research and Graduate Programs for her innovation, valuable service, and dedication to the community. Those that nominated her describe Colette as highly responsive, professional, understanding, and diligent, and someone who goes above and beyond to accommodate special circumstances that researchers may have when submitting grants. Read on to learn more about Zulu, what she does for the College, and why.
How long have you worked for the College?
I joined in 2017 as a research administrator. However, I have over seven years of service at MSU. My first position was in the Controller's office, and I also briefly worked in the International Studies and Programs division (VIPP) as the fiscal officer.
What do you do for the College? What does your typical workday look like?
I provide pre-award support to researchers and their collaborators. The support that I provide includes proposal solicitation searches and sponsor guideline reviews; building proposal budgets; reviewing and compiling proposal documents; and liaising with sponsoring agencies and the MSU Office of Sponsored Programs to ensure timely, compliant, and complete proposal submissions.
What's your favorite part of your job?
Working day in and day out with talented scientists and finding out about their specific research is a very interesting and my favorite part, as I am continuously learning new things, which keep my mind fresh. Also, I enjoy taking away the burden of dealing with the administrative aspects of the proposal submission process while the faculty focus more on the science, teaching, and outreach dimensions.
What's the most rewarding part of your job?
Knowing that my smallest contribution to the proposal submission process resulted in an award, or that the applications that I assist with will ultimately advance knowledge and impact society in a positive way.

What's the most difficult part of your job?
When I see all the great and hard work that the phenomenal researchers put into an application that does not result in an award. I feel very torn and saddened when that happens, even though I know that this is part of the grant-getting process and that today's lack of success is preparation for tomorrow's successful award.
What's the most fun part of your job?
We never stop learning. As I read through and review proposals, I am able to make connections between what researchers are proposing and the expected outcomes, and that helps me to put things in perspective. In a way, I feel like I am becoming somewhat of a scientist in the process. For example, five years ago I could not use microbiome in a sentence. Now, I confidently can.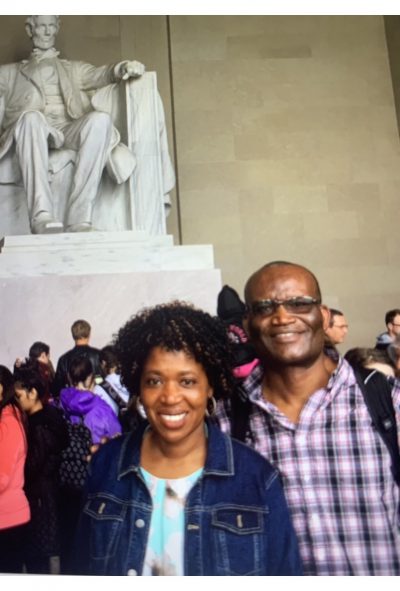 What led you to this career path? Who or what inspired you?
Having mostly worked in accounting/finance, I have been a resource for my husband for such things. As a researcher working on his own grant applications, sometimes he would ask me to review a budget, or to proofread a paper. Now, that set me thinking about how I could apply my knack for numbers to science. So, I went to work. I started taking Research Administration Series classes offered by MSU, reading widely about being a successful research administrator and learning the ropes, and engaging in a lot of networking. And the rest is history.
What's the most important professional skill you've developed while working at the College?
Not "developed," per se, but I have "improved' on my multi-tasking skills.

Do you have a go-to productivity trick?
Planning my work in blocks and taking short walks in between.
What's it been like for you to work throughout the pandemic?
Surprisingly, I have been more productive and more focused working from home, basing on the number of things I have been able to accomplish in a day. The other day, I overheard my husband telling his friend that he was so jealous of my work ethic and discipline as we've both been working from home. Also, I did not have to worry about finding a parking spot on campus, nor driving on icy Michigan roads in the winter 😊. On the other hand, I love dressing up for work, so, getting straight from bed to desk in PJs has been kind of a killjoy for me.
What's one of your favorite memories of work, or personal, from the past year?
On the personal front, it's being vaccinated against COVID-19. It was both a big relief and liberating.
What personal qualities do you have that help make you successful as a research administrator?
I consider myself very organized, detail-oriented, customer-focused, and flexible.
Is there advice you would offer to other research administrators?
The research administration world is ever-changing. It is deadline-driven, and can be challenging at times. To keep up, be diligent, read a lot, and network with other research administrators out there. If you are working on a solicitation, read it in its entirety and refer to it often. Missing a simple detail could cost your researcher an award. Read all the federal updates that are posted from time to time. Ask questions when not sure. You will be on top of things.
What gives you energy at work?
The awesome people that I work with.
What's your biggest pet peeve at work?
Dusty workspaces/workstations.
What are your personal hobbies?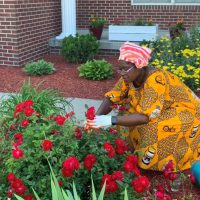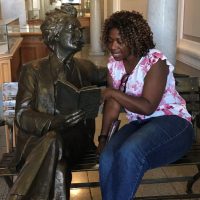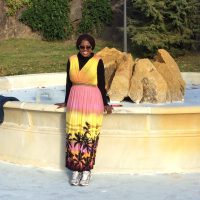 Gardening, traveling, movies.
Are you a night owl or an early bird?
An early bird, though with COVID-19, I do not know anymore.
What's something most people don't know about you?
I have a fear of water. Sadly, I cannot go on a cruise ship, as I would be a spoil sport for everyone on board.