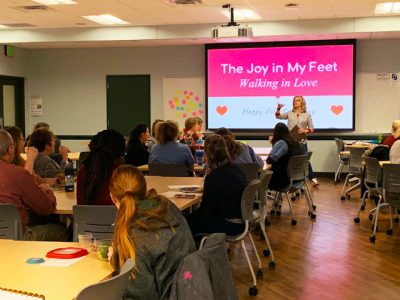 In February, as part of the regular Admissions, Student Life, and Inclusivity seminar series News and Views, Regina Carey M. Ed., presented: The Joy in My Feet—Walking in Love. The following blog was written by Shaun Goulet, DVM class of 2022.

"What sparks joy in you?"

With that quote, most of you most likely thought of Netflix's Marie Kondo; however, I am talking about a woman in our very own CVM community. Regina Carey, M. Ed. is not only Dr. Carey's partner, but also the most inspiring woman I have met thus far in my life.
This Valentine's Day, I had the pleasure of listening in on one of Regina's latest seminars, "The Joy in My Feet: Walking in Love." The goal of this seminar was to challenge each participant to show love and joy to themselves rather than focusing on showing love to others around us. In this seminar, participants also were encouraged to make themselves vulnerable to each other, the idea being that we will learn more about ourselves when we share more of who we are with others.
Regina wanted us to ask ourselves, "What brings me joy?" We all took a minute to think of our responses and then shared with our tables. One of the themes I noticed during this sharing session was the importance of self-care, more importantly prioritizing self-care. Yes, we could be studying instead of binge-watching Queer Eye on Netflix, but sometimes that is just what our body needs to rejuvenate. You wouldn't drive a car on empty, so why would you try to work when you're running on E?
Then we discussed what interferes with our joy. P E O P L E. That's who. Instantly hands were raised to respond with "people" when Regina asked us about our inferences. Everyone in the room agreed that other people can definitely have an impact on one's joy. Regina was eager to respond. She taught us that people are always going to affect our joy, whether they mean to or not. The important thing to remember that our joy IS a priority, and it is not selfish to take care of yourself. Again, do not let yourself run on E.
The major takeaway I received from this seminar was to just listen to yourself, internally. Your body is speaking to you and listening to what it is saying it is your best chance at achieving joy. For example, while I am cranking out this article, I'm also jamming out to Ariana Grande's new album, thank u, next. 10 out of 10 by the way. I'm listening to what my body wants (more Ari) and I feel REFRESHED!
Find what sparks your joy and chase it!
Regina can be reached at coachmecarey@gmail.com or on her website, www.reginacarey.com

Thanks y'all,
Shaun Goulet