By Chelsea "SeaJay" Bates, DVM Class of 2022
A thank-you to the Nachreiners
Hello Dr. and Mrs. Nachreiner!
I wanted to thank you again for your gracious support during my trip. I had an amazing time. We were able to serve so many people of Costa Rica, as well as start to build connections. The language barrier made it difficult, but we did our best, and we were able to show the Costa Rican people, and animals, our serving hearts.
Thank you again for support that made this trip possible! —Chelsea "SeaJay" Bates

Thanks to the Michigan State University College of Veterinary Medicine's Nachreiner Overseas Fellowship Fund, Chelsea "SeaJay" Bates, DVM Class of 2022, travelled to Costa Rica for a veterinary mission trip. Below, she details the time she spent there.
Day One: The trip started out very stressful! I almost missed my flight; the lines at the airport were extremely long and I got put into secondary security with my backpack (my bible was too thick to be scanned through my backpack), but I finally made it through. I ran to my plane and got there just as it was boarding! The flight went well, and I soon landed in Costa Rica. I had a few issues at customs—something about getting my bags through. Fortunately, security understood that the supplies I had in my bags were donated medical supplies that I brought over for my veterinary mission trip. Once through security, I waited at the small café outside the airport until more fellows arrived. The whole group met up, we packed all our supplies, and headed to Pasteje (the farm we stayed on). The people we stayed with were very nice. Once we all settled in a bit, we hung out and started to learn more about one another and bond as a team.
Day Two: We woke up super early! We got to help prepare some goats for an artificial insemination lab that was going to be held in a few days. After that, we hung out around the property and explored more of the gorgeous land we stayed on. We had a mini-service on the property where we got to meet the Ruiz family, then we prepared the supplies for our upcoming spay and neuter trip to San Ramon.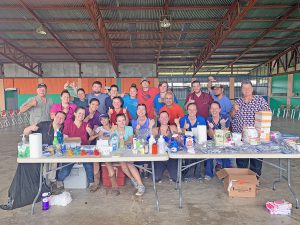 Day Three: We worked with the goats on the property in Pasteje. The veterinarian we stayed with makes connections with Costa Rican people and gives them dairy goats. I taught people how to trim goat feet while another veterinarian taught them how to give vaccines. Unfortunately, during hoof trimming, one of the veterinarians fell through a wooden slat and broke her knee. She was sent to the hospital in an ambulance. The vet and her daughter (also a veterinary medical student) were able to get back to Canada, their home country, so she wouldn't have to have the surgery in Costa Rica. She is in good spirits but will be out of work for three to four months. Later in the afternoon, we took a few cars into town where we explored and walked around. There was a cool indoor market where vendors sold fresh fruit and meat.

Day Four: We helped out some Costa Rican veterinary students at a local clinic. Dr. LeeAnn taught the students about goat artificial insemination. To get to work and talk with students who are going through a similar program as us was an amazing experience. After the lesson, we went back to Pasteje and finished trimming hooves and vaccinating the rest of the goats.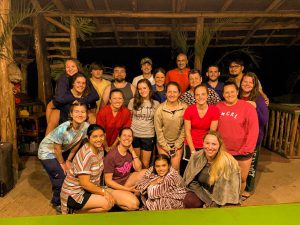 Day Five: We woke up early and headed out to San Ramon so we could start our three days of clinics. We set up for the next few days when we got there. We then started to do clinic work. It was rewarding to be able to talk to the people we were serving. I got to practice my Spanish and appreciated how everyone was willing to speak slow to me and encouraged me. I bonded with one of the girls who brought her cat in; she practiced speaking English with me, and I practiced speaking Spanish with her. That evening, when we were settling into our new housing location, the boys discovered a Viper (happened to be the most dangerous one in Costa Rica) in their shower. The guys were able to safely kill the snake and remove it from the room. We were very thankful no one got bit.

Day Six: We had clinics all day long; we gave many vaccines and performed many castrations on a lot of animals, including goats and sheep. I even got to perform surgery on my own, which was very exciting. Unfortunately, we did lose one animal; during post-op recovery, I noticed one of the dogs wasn't breathing. We tried to resuscitate her, but we were unsuccessful. The owner was very understanding, but it was very hard on all of us to lose an animal. We knew we helped many others, but it didn't make it any easier. A lot of the animals that came to us were in poor health to start with, so that makes surgery and recovery much more difficult than it is in the most "normal" of conditions.


Day Seven: This was our last day of clinics. Though it was a half-day, we still spayed and neutered a lot of animals. It was incredible how many lives we touched in just a few short days. After we packed up the clinic, we went to a beautiful zoo/park where we got to see a lot of native animals and plants, as well as some waterfalls. We then headed back home to sort through and organize the remaining supplies and make a list for next year.
Day Eight: This was our last day together! We talked about the highs and lows of the trip, and the time we spent together. We all formed strong bonds. I'm thankful to know that I now have lifelong veterinary friends throughout the United States.