Donate to the Lucky Fund
To learn more about the Lucky Fund, please contact the Office of Development and Alumni Relations at development@cvm.msu.edu or 517-353-4937.

The MSU Veterinary Medical Center's Lucky Fund provides financial assistance to qualified clients who demonstrate need and whose animal has a good prognosis for recovery. The Fund began in March 1995 when an 8-month-old German shepherd and collie mix was struck by a car. Picked up by a stranger and without any information on the owner, the dog was brought to MSU, where it received care thanks to contributions from the community. The dog was renamed Lucky.
After Lucky's care was complete, the money left over was set aside to help other animals in need and The Lucky Fund was born. Over the past five years, The Lucky Fund has helped 319 animals, more than one pet every week.

Below, you can read two stories of clients who received assistance from The Lucky Fund.
Ellie's Story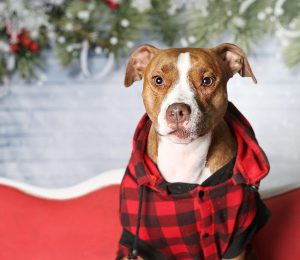 Our dog, Ellie, means everything to us! We love her energy and spirit. She can brighten anyone's day and loves to chase squirrels in the backyard. At three-and-a-half years old, Ellie reacted badly to an injection. The infection spread quickly, and by the next day, she was in poor shape. We took Ellie to the Emergency Service at the MSU Veterinary Medical Center. The infection, which had spread to the tissues in her chest, caused her to require seven surgeries throughout the course of two months, not to mention a two-week stay in Emergency and two vacuum-assisted wound closures.

We are eternally grateful for the support provided to Ellie through the Lucky Fund. It was a scary time for our family, and we had a hefty bill at the end of her treatment. Every bit contributed helped us. With extra help and support, we were able to cover Ellie's Hospital costs and supplies to care for her when she came home.

Aron, Heidi, and Ellie
Mana's Story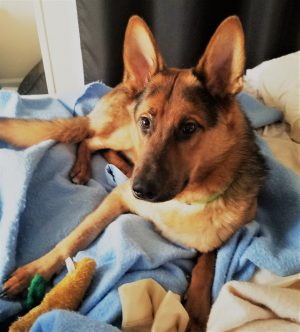 I got Mana, short for Manessah, when he was just eight weeks old. Now he's nearly two and the things I love most about him—his goofy personality and the way he's so loving to all people and animals—haven't changed. He loves to play with his litter mate, Molly, who lives with my daughter.

Last year, Mana was hit by a motorist, and we brought him to the MSU Veterinary Medical Center. He needed surgery to repair a broken leg. The Lucky Fund made it possible for me to get my baby's leg fixed; I could not have afforded it on my own. I would like to thank the MSU veterinary healthcare team—who were awesome during Mana's care—and all the donors who helped Mana when I wasn't financially able to. You all made it possible for my baby to still be able to walk on all four of his legs. Thank you so much.

Kristy and Mana