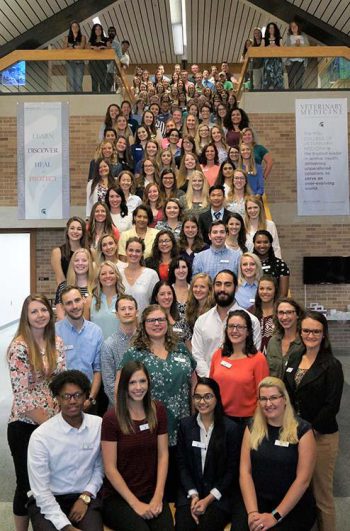 From suturing to dental exams, placing IV catheters and completing surgeries, veterinary and veterinary nursing students learn all the skills they will need on the clinic floor.
But beyond clinical skills, the veterinary and veterinary nursing classes of 2022, having completed their education amid a pandemic that reminded the world of the critical intersection of human and animal health, bring an undeniably valuable perspective to the game.
In enthusiastic celebration of the classes of 2022, we look at the top soft skills of today's Michigan State University College of Veterinary Medicine graduates.
1. Adaptability
The students of the early 2020s learned in a back-and-forth, virtual-to-in-person format, always keeping on top of the latest guidance from local health departments. They learned to intake patients in cold, wintry parking lots, and became adept at using new technologies to stay in touch remotely. Through it all, they progressed, moving around obstacles wherever they cropped up.
"When we say, 'keep the ship moving forward,'" says Olivia Child, president of the MSU DVM class of 2022, "I'm sure we can all agree that sometimes 'forward' is more of a zigzag than a straight line."
2. Communication
It's a given that veterinary and veterinary nursing students must learn to communicate to a diverse crowd. They learn to study and cooperate with classmates; to ask questions and extract information from professors; to convey complex medical information to clients, some of them unreceptive or emotional; and even to communicate to animals, who don't exactly speak the same language. But today's grads did it all through webcam, email, face coverings, and other modifiers.
"It's a wonderful, small profession. You're part of a wonderful network. We're all in this together."
3. Community-Building
When social distancing knocked, veterinary and veterinary nursing students knocked back with innovative ways to build community. Students took advantage of remote platforms to invite lecturers from across the globe, networked with students at other schools, planned fun activities like virtual game nights, started new clubs, and took additional steps to have each other's backs, both professionally and personally.
Lauren Talley-Woychowski, a 2022 graduate of the MSU Veterinary Nursing Program, says the most valuable non-clinical skill she learned was "getting involved with some of the many mind-expanding individuals" in her program, and experiencing "how much good is in the MSU veterinary medicine community."
Dr. Sarah Shull, assistant professor in the Department of Small Animal Clinical Sciences, advised graduates to never stop building community as they progress in veterinary medicine. "It's a wonderful, small profession," she told them at the yearly Senior Celebration ceremony. "You're part of a wonderful network. We're all in this together."
4. Advocacy
Veterinarians and veterinary nurses (known as licensed veterinary technicians outside of MSU), are key stewards of One Health, the principle that health and well-being are interconnected between discipline and species. As such, they are some of the strongest advocates for important causes in their communities, including for their own silent patients. "Get involved in a cause you believe in," advises Talley-Woychowski to fellow students.
Dr. Elizabeth Carr, professor in the Department of Large Animal Clinical Sciences, recommended the same at Senior Celebration. "Pay it forward. The best gift you can give yourself is to help others."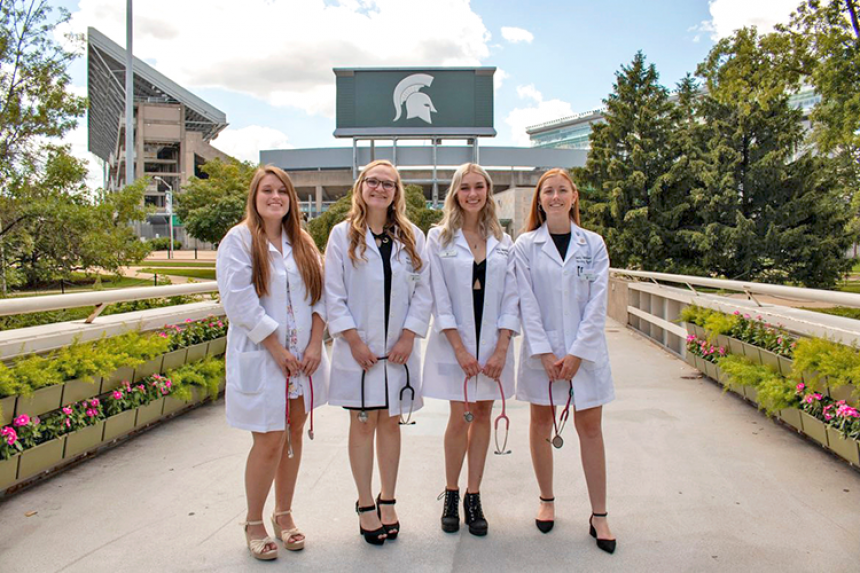 5. Compassion
Already fueled by compassion for animals, today's graduates are integrating self-care into their practice as well. Students at the MSU College of Veterinary Medicine founded a student organization, Veterinary Wellness Initiative, that works with colleagues, staff, and faculty to support well-being for students and professionals alike.
Autumn Thornton, a 2022 graduate of the Veterinary Nursing Program, stresses the significance of this topic. "I talk about how important self-care is in this field to combat compassion fatigue and burnout," she says, "as well as to never give up."
6. Determination
2022 Graduates are tenacious, resolute, and aren't accustomed to resting on their laurels. "Always push yourself beyond what you think you are capable of," says Talley-Woychowski to her classmates. They are perpetual knowledge-seekers, who understand that the end of their years in school simply marks a new chapter.
"Don't stop learning," Carr advised at Senior Celebration. The classes of 2022 don't plan to.