To help address the national shortage of rural veterinarians, Gary and Carolyn Trimner donated $50,000 toward scholarships to support veterinary medicine students who participate in the Michigan State University College of Veterinary Medicine's Food Systems Fellowship Program. With personal ties to the Program and a love for animals, Gary and Carolyn share how their lives led them to this generous act.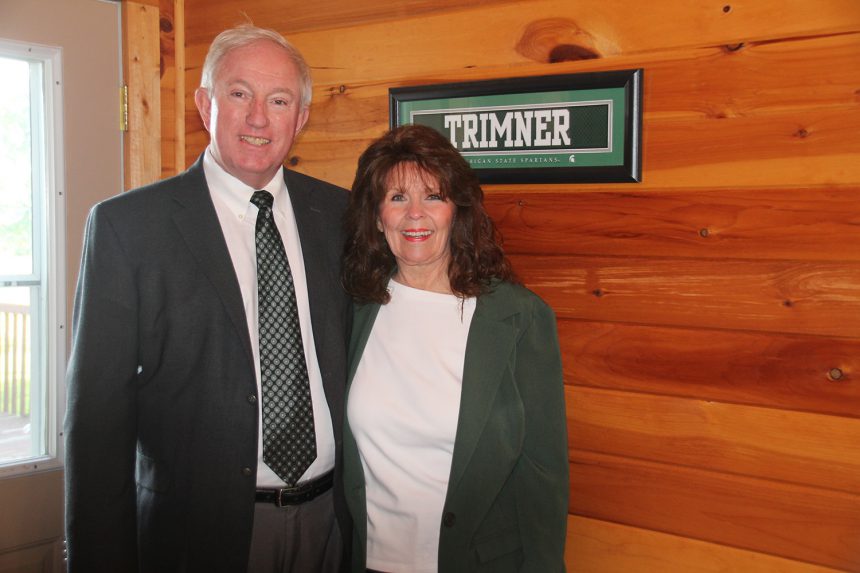 Growing up in the small town of Hersey, Michigan was an enriching experience for Gary Trimner, especially when it came to dairy cows. "From the time I was able to lift a bale, I worked for farmers," says Gary, who worked on dairy farms throughout high school and college including his family's. "My time growing up, I just grew to love the cows, and I knew that I wanted to be involved in that business."
When the time came for college, Gary enrolled at Ferris State University, where he later majored in environmental health. According to him, it was the closest thing available to dairy science. "I wanted to go to MSU, but that wasn't going to happen because we didn't have money to do anything. So, I'd commute to classes in the morning and work afternoons," says Gary.
Luckily, and thanks to all his dairy experience, Gary landed a job as a milk sanitarian with the Illinois Department of Public Health, which kept him close to cows as he inspected dairy farms. "I really wanted to be on the farm," Gary says. "So, this was perfect!"
Eventually, Gary returned to his home state as the director of Member Services for the Michigan Milk Producers Association (MMPA). Throughout his 35-year tenure there, Gary gradually became more involved with MSU, where he worked with a wide range of clients and disciplines, from veterinary medicine and animal science to water resources, food science, and everything in between.
"At certain times, I was on campus once a week," says Gary. "The Michigan Milk Producers Association loves research, so I got to work with the likes of Dr. Ron Erskine, Dr. Dan Grooms, and Dr. Jim Lloyd on various animal disease issues. Over the years, we submitted grants, and if we won, I'd get to sit down and work out the project with them."
According to Gary, the MSU College of Veterinary Medicine was a critical resource for the Michigan Milk Producers Association. "When it came to infectious diseases and animals, we'd utilize the brain power of the vet school to train our field staff. It was a big thing because we had at least 20 field staff under my direction who work with farmers directly, so the MSU College of Veterinary Medicine helped us with a lot of training for TB [tuberculosis], Johne's disease, and mastitis," says Gary. "Wonderful people, I can't say enough about how unbelievably great the staff is at the vet clinic and College, and Animal Science and MSU in general."
As part of that MSUxMMPA partnership, Gary helped establish the Food Systems Fellowship Program. "MMPA has been involved with the Food Systems Fellowship since its inception," says Gary. "I was the lucky one to manage the Program at MMPA, so I was involved with setting up the interns and projects throughout the years, and walking them through the Program and their time with us."
Gary's experience with one particular intern helped him realize the financial burden that some of the students were facing. "I had one intern that I was closer to because her in-laws bought a house from me," says Gary. "I got into conversation with her and I found out how much she was in debt from going to vet school. And I just said, 'You know what, I think we need to do something here.'"
Where Purpose Meets Passion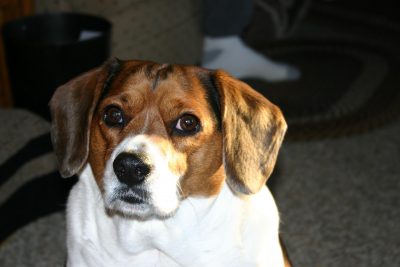 On a personal note, Gary shares that MMPA is where he met Carolyn, who for eight years worked in finance. As time went on, Gary and Carolyn grew closer together. "We just started dating and eventually got married," says Carolyn. "Two of our three children went to MSU."
Carolyn and Gary learned that they both love beagles. They often think of Shiloh, one of their beloved pets who recently passed away. "We still haven't gotten over it," admits Gary. Shiloh's memory lives on in her family's hearts and actions; Gary's passion for dairy cows, combined with his and Carolyn's love for their beagles, inspired the Trimners to give back.
"We love beagles. That's one of the big reasons I support this scholarship, because we lost our Shiloh," says Carolyn. "She was a big reason for me that I wanted to help the vets and that part of MSU, to keep it going and take care of our little babies."

Gary agrees. "With my background in dairy and MMPA, and our two little beagle hounds we love so much, we just wanted to do something to support the various factions of the industry. I wanted to do it in a way that hit home and directly in areas we wanted it to."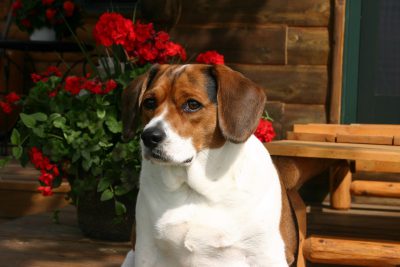 The Trimners decided to support the MSU College of Veterinary Medicine's Food Systems Fellowship Program, as well as the MSU College of Agriculture and Natural Resources. Thanks to the Trimners' generosity and a thoughtful supplement from the Michigan Dairy Memorial and Scholarship Foundation (MDMSF), $4,000 will be awarded to the veterinary medicine student intern chosen each year to work with the MMPA. The scholarship will be awarded through the MDMSF.
"The Food Systems Fellowship Program is absolutely critical to the education of veterinary students," says Gary. "The students don't always get an understanding of how the dairy industry works, so this gives them an opportunity to see on a day-to-day basis how things operate. It's eye opening."
February 2021 marks nine years since Gary retired from MMPA. Today, he and Carolyn spend much of their time working on their cabin, fishing, and enjoying all the beauty the world has to offer. Gary and Carolyn know that, in supporting the College's Food Systems Fellowship Program, they're supporting veterinary medicine and dairy in their own, special way.
"We're immensely proud to do the scholarship," Gary says. "We're proud to support the vet school and the DVM students, as well as farmers and the future of the dairy industry."
To learn more about the Trimners' scholarship, contact the College's Office of Development and Alumni Relations at development@cvm.msu.edu.