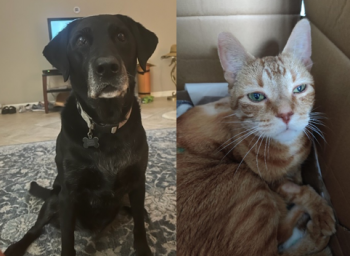 When veterinarians discovered that Sally and Michael's black lab, Promise, had a tumor pressing against her heart, lungs, and esophagus, the family had a difficult decision to make. The surgery to remove the tumor was risky, and Promise had already been through a knee surgery that took her a while to recover from. Ultimately, the pair decided to go ahead with the procedure. Promise made it through the surgery, and after five nights in recovery, she started to feel better. Today, she is alive and healthy.
The great care that Promise received at the MSU Veterinary Medical Center had a huge impact on Sally and Michael. Their experience at MSU inspired them to donate to the Oncology Treatment Support Fund with the hopes of helping someone in a similar position. And that's exactly what they did.
In March of 2022, AliReda Jeafar brought his cat, Coconut, to MSU after Coconut had been diagnosed with fibrosarcoma, a cancerous tumor that originates in the connective tissue. Dr. Leanne Magestro, clinician for the MSU Radiation Oncology Service, was able to perform a CT to help with radiation planning and develop a treatment plan for Coconut. When AliReda realized he would need some help covering the cost, Dr. Magestro let him know about the Oncology Treatment Support Fund. That financial assistance made all the difference for AliReda and Coconut.
This special example of one client helping another get the treatment that their furry friend needed provided the College with an opportunity to hear from both the donor and the recipient of this fund.
Paying it Forward: A Q&A with Sally
Can you describe your experience at MSU and with the veterinary professionals who helped Promise?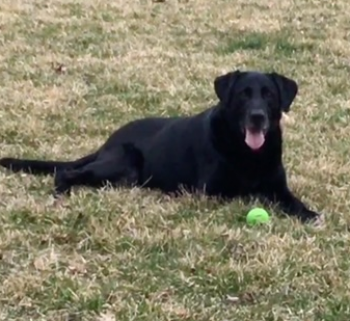 When I first called, the operator, while patient, was not able to help us. It was during COVID, and MSU wasn't taking new patients. I was discouraged, but I understood the position they were in. Within five minutes, I received a call on my cell. It was a woman from MSU who happened to overhear my conversation with the operator and wanted to hear more. We talked about Promise's medical status, and shortly thereafter, Promise had an appointment for evaluation that week. The magic of MSU began to wave her hand over our girl.
Promise is alive and healthy due to the MSU veterinary team and their compassion and expertise. They care. They are so capable and knowledgeable. They loved Promise (who wouldn't?) and were unbelievably professional and academically genius. Please keep in mind that all of this is coming from a Michigan graduate!
Why did you decide to contribute to the Oncology Treatment Support Fund?
Your work is so valuable. It was heaven-sent for me. If I can help someone else get the care that I received at MSU, I would be honored.
Do you have a message for AliReda, who was able to get treatment for his cat, Coconut, because of this fund?
I know how it feels. And I know how it feels to have someone you don't know help you. What goes around comes around.
Is there anything else you would like to share?
Our wonderful local vet, Dr. Danielle Rawlings, thinks Promise is a miracle girl, but she doesn't know the MSU veterinary team like I do. They are truly the real miracle.
Gratitude for a Good Fortune: A Q&A with AliReda
What was your experience like with Dr. Magestro and her team?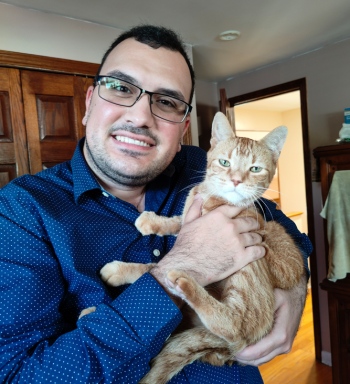 From the moment I met Dr. Magestro, I felt warm, comfortable, and that Coco was in the best hands he could possibly be in. She clearly explained the pros, cons, and expectations of treatment and gave me daily phone calls to keep me informed of how my big guy was doing. The team was always excited to see him, and he was just as excited to see them. My interactions with all the staff were always comforting.
How did you find out about the Oncology Treatment Support Fund and how did you react?
Dr. Magestro came to me and informed me of the fund. That money was a godsend to me because I felt completely alone when it came to taking care of Coconut and seeing him through his treatment. Thanks to this fund and the generosity of someone I don't know, I was able to keep fighting for Coco. I could not be more grateful for the fund.
Do you have a message for Sally, who donated to this fund?
To Sally and the other former clients who donated to the fund, I can't thank you enough for your generosity. Thanks to you, the financial blow from this treatment was blunted, and Coco is doing wonderful. I will find a way to pay it forward once my financial situation improves. Without you, this would have been a far more troubling experience. Just the knowledge that this fund existed, let alone the contribution itself, was enough to make me want to keep fighting for my cat, who is now doing wonderful while recovering at home. From the bottom of my heart (and Coconut's heart!), thank you.
Is there anything else you would like to share?
The faculty and staff at MSU were all truly incredible and made every second of the long drive to the facility worth it. Never once did I think of giving up because I believed Coco was worth fighting for, and the team at MSU reassured me through their actions every step of the way that they thought he was worth fighting for, too.
To donate to the Oncology Treatment Support Fund to help more clients like AliReda and Coconut, click here: https://givingto.msu.edu/gift/?sid=14030