Update: Kaiser passed away on October 18, 2013, 9 days after his 15th birthday.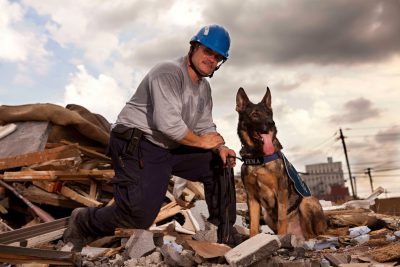 On September 11, 2001, Kaiser, a certified FEMA Search and Rescue (SAR) German shepherd, went to Ground Zero for his first mission. It was the largest deployment of SAR dogs in U.S. history. In the years since, Kaiser and his handler Tony Zintsmaster have seen it all, contributing to search and rescue efforts in the wake of tornadoes, landslides, floods, and hurricanes across the country.
One of the few remaining "9/11 dogs," Kaiser is now 15 years old, retired, and facing a different challenge. Diagnosed with oral fibrosarcoma tumors earlier this year, he is receiving palliative radiation treatment at the MSU Veterinary Medical Center. The treatment by the oncology team is not designed to cure the cancer, but to slow down the cancer's growth and to improve Kaiser's quality of life.
Our goal with palliative radiation is to provide Kaiser with some comfort," says Isabelle Vanhaezebrouck, a board-certified radiation oncologist and assistant professor in the Department of Small Animal Clinical Sciences. Vanhaezebrouck, who leads the hospital's Radiation Oncology Service, explains that the treatment aims to alleviate pain, inflammation, and swelling associated with the tumor.

The treatments have worked well. The tumor is smaller than it was, Kaiser is now able to comfortably eat, and he is as active as he was before he became sick, says Zintsmaster. Mentally, Kaiser is sharp.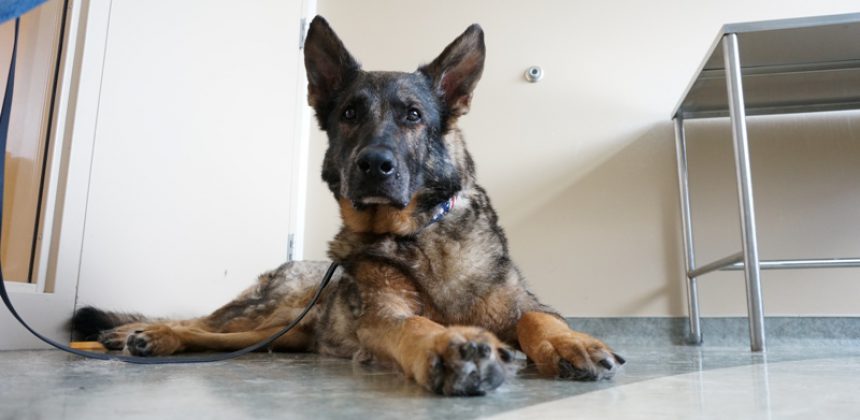 Zintsmaster and his wife Annette, who worked at the World Trade Center with her SAR dog Max, are happy to enjoy more time with Kaiser—he's good company. And the handler and his retired dog are extraordinarily close. "It's a tight bond you form with them when you do the type of work we do. The level of trust they have in you is extraordinary. I say come on and get in a helicopter and he does it because I'm telling him to do it—his instincts say no but he'll do it because he trusts me—it's a tight relationship that way," Zintsmaster said.

A few hours after planes struck the World Trade Center towers on September 11, Zintsmaster and Kaiser were called to the site and began working immediately. They worked 12-hour shifts for 10 days.
At the Javits Center, where many of the rescue workers were housed, a collaboration including Pacific College of Oriental Medicine and the Acupuncture Society of New York organized free massage, chiropractic, and acupuncture treatments for the rescue workers—human and canine.
Kaiser took advantage of the complementary treatments, which were designed to manage stress, support mental alertness, and address specific muscle fatigue.
During breaks from searching the mountain of rubble at Ground Zero, Kaiser also offered his own therapeutic services. He provided a lot of comfort to the New York City fire fighters and other rescue workers. Zintsmaster recalls one particular firefighter approaching Kaiser. "The firefighter knelt, and then hugged the dog—we didn't have to say a word to each other," says Zintsmaster. Another encounter he remembers vividly was with a group of firefighters who gave water to and cleaned Kaiser. One cupped his hands as a make-shift bowl, two others poured water, and a third started cleaning Kaiser's back and muzzle. "Those men needed comfort, and Kaiser is a very affectionate dog—he loves people."
Katrina, Gustav, and Ike
Zintsmaster explains that rescue workers were comforted by Kaiser at Ground Zero, but it is usually the disaster victims that he comforts. Following Hurricane Katrina in 2005, Kaiser and Zintsmaster were deployed to Louisiana, where they stayed for 21 days. That, says Zintsmaster, was a tough mission, perhaps more so than 9/11, though each mission has its own challenges. "People are experiencing a great deal of trauma—including local law enforcement. You remember to be the best assistance you can be. You try to always remember to be a professional."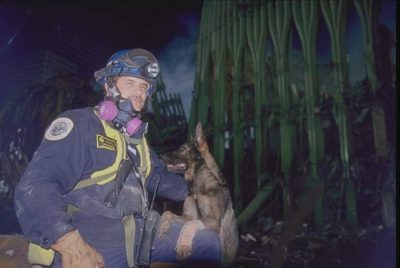 In Louisiana, the duo spent much of their time taking helicopter hops to areas that had been flooded. They saved a lot of animals in the aftermath of the hurricane, Zintsmaster says. "People had no idea the evacuation would be so long and it was an enormous tragedy. There were so many animals left behind and there was no way to save them all. We let them out of houses so they would at least have a chance of surviving, and we smuggled food over every day—it wasn't exactly allowed."

On one block in New Orleans, Zintsmaster's team found three men who had stayed behind to care for all the dogs on their block. They let the rescue workers know that they had sufficient supplies for themselves and for the dogs, so they were allowed to stay.
Estimates of companion animals rescued after Katrina hover around 15,000, likely more than during any other SAR effort in US history. No one knows how many companion animals perished in the disaster, but the Louisiana Society for the Prevention of Cruelty to Animals estimated that 70,000 pets remained in the city during the storm. Pets were not the only ones who remained—one post-Katrina survey found that 44% of the people who did not evacuate chose to stay because they could not evacuate with their animals. All this led to the passage in 2006 of the Pets Evacuation and Transportation Standards Act (PETS), which requires states seeking FEMA assistance to accommodate pets and service animals in their plans for evacuating residents facing disasters.
Three hurricane seasons later, in 2008, Kaiser and Zintsmaster went on their last FEMA national deployment. They were called for Hurricane Gustav, which hit southern Louisiana on September 1, and ended up staying to work Hurricane Ike, which hit Galveston, Texas on September 13. Gustav triggered the largest evacuation in U.S. history—more than 3 million people evacuated ahead of the storm. More than one million evacuated ahead of Ike. The federal PETS act recently had gone into effect and improvements to the evacuation system for pets had been implemented. Zintsmaster says there were still far too many animals left behind, but at least there was a rescue system in place. While Gustav and Ike were their last FEMA national deployments, Kaiser did not retire altogether. He continued to do local work, primarily "wilderness" work, which usually involves searching for missing or run-away children.
Retirement
Kaiser loved the work, and stayed at Search and Rescue until he was 12 years old—much longer than most SAR dogs. Until then, his endurance was good and he was fully focused. When Kaiser began to lose endurance, it was time for him to retire. "I worked Kaiser as long as I did because he wanted to work and he was at 100 percent," explains Zintsmaster. "Every SAR dog needs to be at the top of their game."
These days, Kaiser's job is to be good company to the Zintsmasters, and to defend himself from their younger dog—who persistently tries to entice the retired hero to play.
"We're happy that we're able to help provide Kaiser with more comfort and more time with his family," says Phillip Ryan, the fourth year DVM student that conducted Kaiser's intake. "A tumor like Kaiser's—in such a hard-to-target location and where it's important to not destroy cells below the very shallow tumor—it really requires specialized technology and medical expertise." Vanhaezebrouck began leadership of the radiation oncology service in 2012.
Since his first mission, Kaiser has been providing comfort to others, and now the Zintsmasters are providing him with that same level of comfort and care.
July 19, 2013
Casey Williamson