Posted September 14, 2018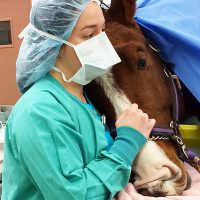 The Michigan State University College of Veterinary Medicine has been ranked one of the top 20 colleges in the nation for best veterinary degree according to College Choice, an online ranking source for students looking for the right fit for their interests and needs.
The College's Veterinary Technology Program earned MSU a third-place listing for undergraduate veterinary programs across the country. MSU's accredited Program offers two degree options: a Certificate of Completion in Veterinary Technology or a Bachelor of Science degree in Veterinary Technology.
This year, the Program celebrates 50 years of operation. For more information, visit the 50th Anniversary of the Veterinary Technology Program Homecoming event page.