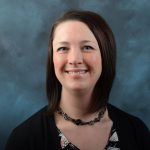 Four DVM students from the MSU College of Veterinary Medicine received awards at this year's American Association of Bovine Practitioners (AABP) annual meeting. Third-year Grace Ertle was presented with an Amstutz Scholarship, which recognizes students who demonstrated key qualities during their second year of veterinary school as they pursue a career in bovine medicine. Fourth-year Colleen Potter was presented with an AABP Foundation/Zoetis Scholarship, which supports bovine medicine students who demonstrate excellence during their third year of veterinary school. Third-years Kyle Longcore and Katie Osborne were presented with Merck Student Recognition Awards, which are reserved for second- and third-year veterinary students interested in bovine medicine.
"We are so proud of our students," says Dr. Ángel Abuelo, director of the Food Systems Fellowship and assistant professor of Cattle Health and Wellbeing at the College. "This national recognition is an outstanding acknowledgement of the commitment of these students to bovine practice. We can rest assured that future generations of MSU veterinarians continue to be passionate about their roles in animal agriculture. We thank the AABP, its membership, and the companies supporting these awards for their advocacy and dedication to veterinary students".
The AABP is an international network of veterinarians, who focus on leadership in cattle health, welfare, and productivity. More than 100 animal health and industry-related organizations exhibited at their 2019 conference.
For more information about these awards or bovine medicine at the MSU College of Veterinary Medicine, contact Dr. Angel Abuelo.