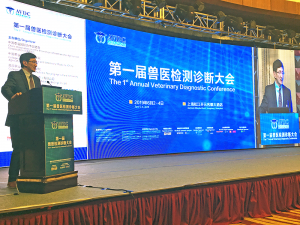 For the first time, a national veterinary diagnostic conference was held in China. Twenty eight speakers were invited to present at the conference held Sunday, June 2–Tuesday, June 4, 2019 in Shanghai, China. Topics included food safety and security, molecular diagnostics, microbiology, serology, pathology, laboratory information management systems, and diagnostic laboratory management. David Korcal, quality assurance manager at the Michigan State University Veterinary Diagnostic Laboratory (MSU VDL) was one of only 10 speakers invited from U.S. veterinary diagnostic laboratories and colleges of veterinary medicine.
Conference organizers cite increasing volume of food animal production, number of pet owners, and demand for diagnostic services as drivers for the meeting. They also acknowledge that, "[i]n China, there is room for significant improvements in veterinary diagnostic services in terms of availability of providers of reliable, accurate, timely, and high throughput services. Quality assurance and quality control of diagnostic services, laboratory equipment and supplies, and reagents are also important factors..."
An MSU-educated medical laboratory technologist, Korcal has more than 15 years of quality assurance experience and has been presenting and facilitating trainings and workshops on various aspects of quality assurance and quality control for both human and veterinary diagnostic laboratories since 2005. In addition to his role at the MSU VDL, he is also the current co-chair of the American Association of Veterinary Laboratory Diagnosticians Accreditation Committee. Korcal also has been an instructor and content developer for the quality system management training offered by the USDA National Animal Health Laboratory Networksince its inception in 2010.
At the Annual Veterinary Diagnostic Conference— China, Korcal presented three sessions: AAVLD requirements for an accredited veterinary medical laboratory, a North American standard; Laboratory accreditation to the ISO/IEC 17025 standard; and Quality management systems in the veterinary diagnostic laboratory. All conference sessions were simultaneously translated for attendees.
"The enthusiasm of the attendees and organizers, as well as the amount of resources, technology, and support on-site for this conference, was amazing. It was an honor to be invited to speak and to be a part of this inaugural event," says Korcal. More than 600 people attended the conference and it was streamed live to more than 120,000.
The conference was organized by the China Association for the Promotion of International Agricultural Cooperation, the China Agricultural University College of Animal Science and Veterinary Medicine, and the Nanjing Agricultural University College of Veterinary Medicine.
The MSU VDL, a service unit in the MSU College of Veterinary Medicine, is a premier, full-service, fully accredited veterinary diagnostic laboratory for all species. On average, the lab performs one million tests per year on approximately 180,000 cases for more than 300,000 animals. The MSU VDL is a member of key federal networks and is charged with protecting human and animal health, and their core diagnostics, innovative solutions, and expert service have earned them clients in all 50 states, U.S. territories, and more than 20 foreign countries. The lab serves approximately 7,000 clients per year.