Award for DVM/PhD Dual-Degree Candidate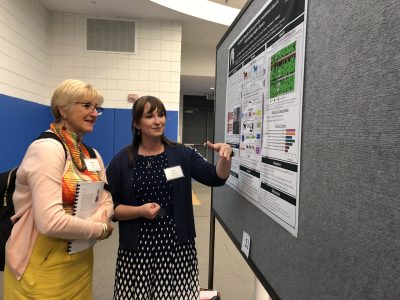 MSU College of Veterinary Medicine attendees to the conference also got to cheer for one of their own. DVM and PhD dual-degree candidate Zoë Williams was honored with a Boehringer Ingelheim Veterinary Scholar and Researcher honorable mention award. Zoë also was among the few DVM/PhD students selected to give an oral presentation at a special Dual-Degree Colloquium held before the start of NVSS.

Pictured: Zoë Williams explains her work on equine myofibrillar myopathy in horses to Dr. Dana Gady of Texas A&M at the special poster session at the Combined Degree Colloquium, held in association with the NVSS.
Since 2000, the MSU College of Veterinary Medicine's summer research programs have helped hundreds of students foster intellectual curiosity, engage in scientific inquiry, and generate new knowledge, while working as part of a research team. These programs are currently supported by two NIH grants, as well as grants from industry, endowed funds from alumni, and College and University resources. The programs offer insight to potential career paths that students may not have considered.

Each year, the program culminates with a National Veterinary Scholars Symposium (NVSS), which brings together veterinary students engaged in summer research. This year, NVSS was hosted by Tufts University Cummings School of Veterinary Medicine and supported by major funding from Boehringer Ingelheim (BI) and an R13 conference grant from NIH, held by Michigan State University. The symposium, titled "Engaging Veterinarians to Advance Animal and Human Health," featured poster presentations by 560 students, as well as oral presentations by outstanding researchers that highlighted collaborations between veterinary and human medical researchers, frontiers in veterinary research, and specific cutting-edge topics like antimicrobial resistance, critical care, cancer genetics, and regenerative medicine.
2019 Summer Research Participants
Student

Mentor

Funding Source

Joanna Acosta

Dr. Jane Manfredi

BI + match from Graduate School

Maisah Akram

Dr. Rick Neubig

R25 match from MSU Undergraduate Research Office

Kaitlyn Bailey

Dr. Jane Manfredi

NIH T35

Hailee Butler

Dr. Dalen Agnew

Cincinnati Zoo

Olivia Child

Dr. Cheryl Swenson and Dr. Vilma Yuzbasiyan-Gurkan

NIH T35

Patrick Crannell

Dr. Ron Erskine

NIH T35

Sydney Dudley

Dr. Hans Cheng

BI + match from MSU Graduate School

Carmen Garcia

Dr. Shannon Manning

NIH T35

Mikayla Jade Gmitter

Dr. Ning Li

R25 match from MSU Undergraduate Research Office

Taneisha Griggs

Dr. Dana Spence

NIH R25

Kimberly Guzman

Dr. Cheryl Rockwell

NIH R25

Ashley Hetak

Dr. Dalen Agnew

BI + match from Graduate School

Annika Hollender

Dr. Stephanie Valberg

BI + Univ. of Hanover

Jazmin Johnson

Dr. James Luyendyk

NIH R25

Joshua Kim

Dr. Claire Hankenson

NIH T35

Olivia Lefere

Dr. Cheryl Swenson and Dr. Vilma Yuzbasiyan-Gurkan

NIH T35

Tim Lin

Dr. Vilma Yuzbasiyan-Gurkan

BI + match from Graduate School

Marlin McKnight

Dr. James Wagner

NIH R25

Shelbey Moore

Dr. Srinand Sreevatsan

NIH T35

Anna Mukhina

Dr. Bonnie Harrington

NIH T35

Nicole Mulready

Dr. Linda Mansfield

NIH T35

Sophia Ono-Korkowski

Dr. John LaPres

NIH R25

Yan Pacheco

Dr. Rick Neubig

NIH R25

Amari Parris

Dr. Adam Lauver

NIH R25

Hailey Penticoff

Dr. Norb Kaminski

NIH R25

Kellie Rizzolo

Dr. Angel Abuelo

BI + match from Graduate School

Sara Saikalis

Dr. Colleen Hegg

NIH T35

Rachel Sheffler

Dr. Margaret Petroff

NIH T35

Christina Straham

Dr. Dorrance and Dr. Jackson

NIH R25

Bridget Walker

Dr. Ron Eustace

BI + match from Graduate School

Taylr Wells

Dr. Srinand Sreevatsan

NIH T35

Noah Wolinski

Dr. András Komáromy

NIH T35
For Veterinary Medical Students
Each year since 2000, the College hosts up to 30 veterinary medical students, who immerse themselves in mentored research. During the 11-to-12-week program, they are expected to participate in biomedical research, generate and analyze data, and present their results at MSU and a national conference. In addition, they participate in seminars and discussion groups focused on responsible conduct for research and careers in science. They also gain insight to career opportunities for further training and research, as well as valuable lessons in teamwork, organizational skills, and leadership.
For Undergraduate Students
The Biomedical Research for University Students in Health Sciences (BRUSH) program provides hands-on research exposure and preparation for graduate school or professional opportunities for individuals from diverse backgrounds. Students participating in this 12-week program work on a project under the mentorship of leading scientists, along with veterinary medical summer research students, who serve as excellent aspirational peers.
Leadership in Training Grants
The MSU College of Veterinary Medicine is a leader in securing robust funding for these important, experiential learning programs. Drs. Vilma Yuzbasiyan-Gurkan, Susan Ewart, and Linda Mansfield serve as co-PIs for the NIH T35 and the BI grants, while Ewart and Yuzbasiyan-Gurkan serve as co-PIs for the NIH R25 grant. In addition, Yuzbasiyan-Gurkan is the PI for the NIH R13 grant, which provides major funding for the NVSS.