On Wednesday, September 14, Michigan State University held its annual Investiture for Endowed Faculty to honor the newest endowed chairs, endowed professors, and MSU foundation professors. In total, nearly 40 faculty were celebrated, including Dr. Loïc Déjardin, who in 2020, was appointed as the Wade O. Brinker Endowed Chair of Veterinary Surgery at the College of Veterinary Medicine.
Faculty become endowed chairs when they've achieved incredible success in their research, and when those outcomes align with the priorities and passions of the University and its friends. Déjardin enjoys a national and international reputation for his outstanding accomplishments in clinical orthopedics, as well as applied basic science research. His inventions, patents, and innovative surgical techniques have led to several paradigm shifts in veterinary orthopedics, which in turn have improved the health outcomes for pets every day. His work, both in implant development and robotics, finds applications in human orthopedics as well.

Ceremony Details
MSU's 2022 investiture ceremony was held in the Cobb Auditorium at the Wharton Center for Performing Arts. The ceremony began with the processional played by wind symphony, brass, and percussion students from the College of Music. Speakers included Scott Pohl, WKAR; Renee Knake Jefferson, MSU Board of Trustees; Samuel L. Stanley, University president; Dan Van Haften, alumnus and donor; Teresa K. Woodruff, University provost; and Kristen Renn, the Dr. Mildred B. Erickson Distinguished Chair in Higher, Adult, and Lifelong Education.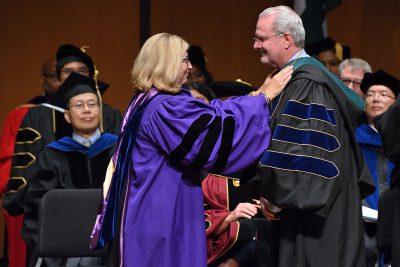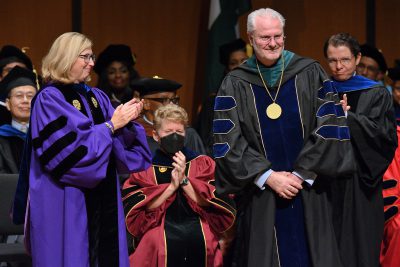 According to President Stanley, MSU's first investiture ceremony was held in 2016 to build pride and community around both endowed faculty and the donors who support them. "The goal was to spark enthusiasm and build momentum so that even when the [University's] capital campaign came to an end, our capacity for recruiting, retaining, and rewarding our best and brightest faculty members would continue to grow," says Stanley. "This is proof positive that excellence begets excellence, and that supporting great faculty is key to our ability to attract and retain even more great faculty."
Provost Woodruff spoke about the impact faculty have on the University's capabilities and reputation. "MSU faculty are catalysts of human striving in pursuit of new knowledge and enduring truths, teach and enable learning for a new generation of students, and link real-world praxis to our cycle of understanding," says Woodruff. "Faculty are the fabric of a great university. Your contributions to MSU's reputation as a research institution are clear. The Times Higher Education World University rankings have MSU in the top 100 best global universities. 8 MSU programs were ranked number 1 in the nation by US News and World Report, and 39 programs are in the top 25. MSU is also among the top 100 patent-granting universities in the world."
She continues, "Outstanding research. Caring teaching. Impact on lives. These are the attributes of the MSU faculty as a body and of you, whose extraordinary accomplishments we celebrate today. Indeed, those faculty who have been recognized for their excellence, and in whom we vest the honorifics of the University today, are those who make MSU, and make MSU great."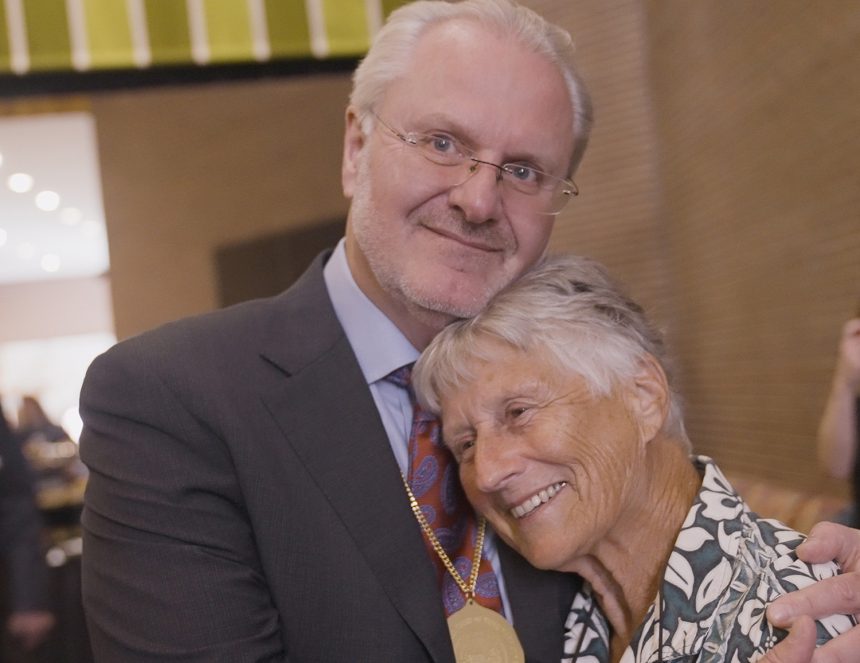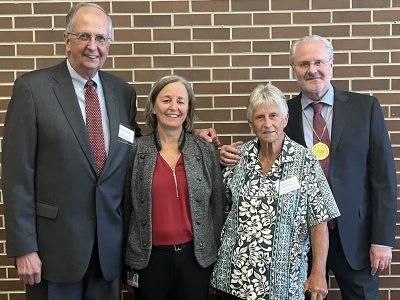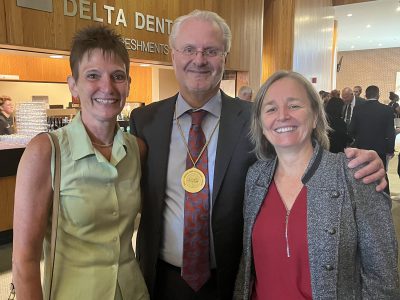 Déjardin's Research and Clinical Success
Déjardin Recognized as an Honored Mentor by ACVS
The American College of Veterinary Surgeons (ACVS) Foundation named Déjardin as an Honored Mentor. The ACVS Foundation recognizes the extraordinary impact honored mentors have made in the lives of those who honor them.
Déjardin leads both the Small Animal Orthopedic Surgery Service, as well as Comparative Orthopedic Research, at the MSU College of Veterinary Medicine. Déjardin has a strong research foundation in orthopedic surgery, and describes himself as a surgeon, clinical scientist, inventor, engineer, and mentor. His research focuses on biomechanics, implant and instrument design, development of innovative surgical techniques, total joint replacement (elbow, hip, knee, ankle), and robotics. His research program is increasingly well-funded (> $7M) including a recent award from the AO Innovation Translation Center to develop a robotics integration system for the reduction and fixation of sacroiliac luxation/fracture.
Déjardin is an astute orthopedic surgeon and compassionate clinician, highly regarded for the quality of his patient care and client communication, innovation in clinical practice, devotion to mentorship, and highly effective clinical and didactic instruction of students and established professionals. As an international AO Foundation faculty, a member of the AO Technical Commission, and a former AO trustee, he has contributed substantially to the expansion of the College's footprint, de facto establishing MSU as a global leader in veterinary orthopedics. He is a dedicated mentor of residents, graduate students, and postdoctoral fellows in clinics and research, and is equally committed to mentoring junior faculty, as well as visiting scholars. Déjardin's work, as well as that of his mentees, has been acknowledged both nationally and internationally with numerous and prestigious accolades in veterinary and human orthopedics, as well as engineering.
The Brinker Chair
The Wade O. Brinker Chair in Veterinary Surgery is endowed by gifts from more than 1,200 contributions to commemorate Dr. Wade O. Brinker and to perpetuate his example of scholarship in veterinary surgery. Brinker is one of the most well-known and respected surgeons in the veterinary profession. Brinker's numerous and impactful accomplishments include the establishment of the American College of Veterinary Surgeons, the Veterinary Orthopedic Society, and the AOVET North America.
Thanks largely to his efforts, veterinarians today are more effectively treating fractures, deformed limbs, and bone tumors in cats and dogs. Brinker's pioneering work in developing surgical approaches, orthopedic devices, treatment of fractures, and methods for storing and grafting bones was particularly valuable, as much of it could be used in the everyday practice of veterinary medicine.
During his residency, Déjardin had the unique opportunity to work with Brinker, who although retired, was keen on sharing with Déjardin his vast knowledge of orthopedics, as well as invaluable pearls of wisdom.
"Working with a living legend is undoubtedly intimidating. Yet, Dr. Brinker's kindness, patience, and humble demeanor made our interactions so easy and our time together so enjoyable. Sharing Brinker's wealth of knowledge has been an honor and an irreplaceable experience that inspires me to this day. I can only hope that, through my work at MSU, I will be able to carry his legacy forward," says Déjardin.