Three Doctor of Veterinary Medicine (DVM) students from the Michigan State University College of Veterinary Medicine have been awarded the 2022 Merck Animal Health Food Systems Fellowship Scholarship. Each of these future veterinarians will receive $5,000 in honor of their summer achievements and positive feedback they received from their supervisors.
Each student—Sara Hoskins, Arpita Nayak, and Luke VanBlois—participated in the College's Food Systems Fellowship (FSF) Program, which offers a concentrated focus on the food industry via summer employment with industry or MSU partners. Merck Animal Health has been an important FSF partner since 2006. Since 2013, Merck Animal Health has awarded $5,000 scholarships to 3 FSF and DVM students at the College annually.
Congratulations, 2022 FSF Award Winners!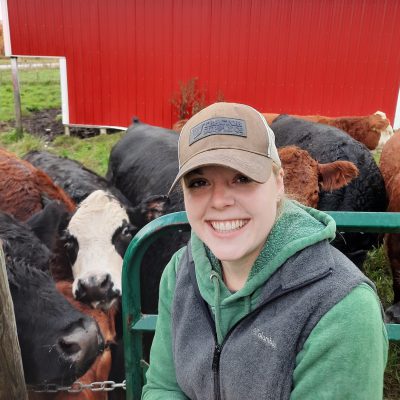 Sara Hoskins is an aspiring food animal veterinarian with an interest in dairy cattle, beef cattle, and small ruminants.
"After veterinary school, I'm looking forward to providing a beneficial service to farmers. I am excited to work with them to provide high-quality feed and care for their livestock, [while] emphasizing overall herd health as well, to ensure that we are providing consumers with the best product possible," says Hoskins.
"The Food Systems Fellowship helped me appreciate the intensive management of livestock in order to maintain a healthy herd," she continues. "I enjoyed being an active part of the farm's rotational grazing system that supports healthy livestock and pastures."
Hoskins earned her BS in Biology from Ferris State University in 2019, and is currently a third-year DVM student at the MSU College of Veterinary Medicine. She's worked for MSU Campus Farms with dairy cattle, beef cattle, and sheep.
Hoskins grew up on a beef farm in Coral, Michigan, which is where she says her passion for animal care began. She also notes a newfound interest in honey bee medicine. "Antibiotics are used in honey bees to treat certain diseases, but as of 2017, beekeepers can no longer purchase antibiotics over the counter, and now have to get them through a veterinarian. Honey bees are one of our tiniest food animal species, and I'm very excited to be a part of this growing area of medicine for veterinarians," she says.
Hoskins credits her upbringing for her passion and determination. "Many thanks and love to my family for fostering this interest and the constant encouragement to chase my goals."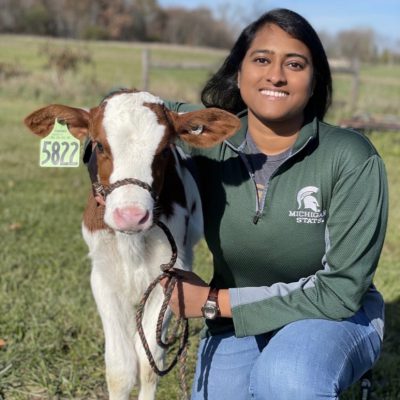 Arpita Nayak is an aspiring food animal veterinarian with a keen interest in the One Health dynamics between food animals and their local communities. Nayak says participating in the Food Systems Fellowship Program enabled her to foster deeper understanding of the relationship between food animals and local communities, as well as how she can build bridges between the two for mutual benefit.
Nayak also credits her previous experience working in rural Indian communities and current experience in dairy cattle research with her decided trajectory.
"I would love to work on projects that support underserved communities, where the health of livestock is inextricably linked with the health and success of the surrounding community. In my opinion, animal agriculture industry partners can have a profound effect on the success of food animal health in these communities by providing technical expertise and financial support. I would love to be a veterinarian that is a liaison between community members and industry partners."
Nayak is from Sterling Heights, Michigan. She earned her BS in Zoology with concentrations in animal behavior and neurobiology in 2019 from Michigan State University. Nayak is currently a dual-enrolled DVM/PhD student at the MSU College of Veterinary Medicine.
Nayak says her summer research experience working with newborn Holstein calves in Dr. Ángel Abuelo's Laboratory gave her new aspirations. "I was convinced that my career goals were to be a small animal general practitioner or a small animal emergency veterinarian. Most of my clinical experience was in small animal medicine, and I was unfamiliar with the extensive world of the food animal/production industry," Nayak explains.
Nayak's grandfather was a livestock veterinarian in India, but she grew up in the US, and had no opportunity to work with food animals. Now, with research experience and a publication under her belt, she's found new love for food animal health and welfare. "The dairy industry is a significantly large sector of the food animal industry, and there are endless opportunities as a veterinarian to work with industry partners to find new and sustainable ways to improve food animal health," she says.
Nayak served as a shelter veterinary assistant at Detroit Animal Care and Control from 2018-2021. She also worked as an emergency and critical care veterinary assistant at Oakland Veterinary Referral Services from 2019-2020. From there, she joined Dr. Ángel Abuelo's Laboratory at Michigan State University as a graduate research assistant, where she currently works.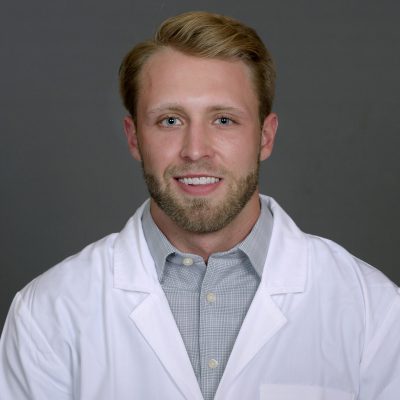 Luke VanBlois is an aspiring aquaculture veterinarian with a passion for education. "I wish to continue contributing to the realm of aquatic veterinary medicine by educating stakeholders about the issues in this ever-growing field and inform my colleagues about the many career opportunities that are available. I also plan on conducting more research on fish health and publishing those results to further grow aquaculture locally and worldwide," says VanBlois, who gained some experience in aquaculture through his participation in the FSF Program.
"The FSF allowed me to conduct research during the summer of 2022 in MSU's Fish Pathobiology and Immunology Laboratory. My project focused on hatchery-raised Coho and Chinook salmon, and I worked closely with Michigan's Department of Natural Resources. Currently, this project is not complete, but the data that has been analyzed is extremely promising. Dr. Bartolomeo Gorgoglione, Dr. Cahya Fusianto, and I plan on publishing a paper as soon as possible that contains vital information in hopes to increase Michigan's salmon stocks."
VanBlois is from Grandville, Michigan. Now a third-year student at the MSU College of Veterinary Medicine, he previously earned his BS in Biology in 2019 from Hope College. While at Hope, VanBlois began his research career with Dr. Gregory Fraley. In Fraley's laboratory, VanBlois conducted production animal welfare research, work which enabled him to publish a paper focused on meat ducks (pekin) in the Journal of Applied Poultry Research.
"I credit the time spent in the Fraley lab to developing my passion for production animal welfare and gaining the skills needed to continue researching production animal medicine within the Food Systems Fellowship Program at MSU," says VanBlois.
After he graduates with his DVM, VanBlois plans to stay in Michigan and work in small animal general practice while he completes his aquatic veterinary certification and gains more experience with aquatic animals.
About FSF and Merck Animal Health
FSF has provided hands-on experience with food animals to the College's veterinary students since 2006. More than 20 local, national, and international partners in the agriculture industry offer summer externships to FSF students, which provide for the development of qualified veterinarians who are passionate about the advancement of animal and human health.
More than 150 food animal veterinary students have participated in FSF. Of those, 26 have been awarded Merck Animal Health Scholarships.
To learn more about the MSU College of Veterinary Medicine's Food Systems Fellowship Program, visit the College's website.
About the MSU College of Veterinary Medicine
The MSU College of Veterinary Medicine was established in 1910, although veterinary science has been taught at MSU since the institution's founding in 1855. With a focus on One Health—the interconnectedness of animal, human, and environmental health—the College is at the forefront of veterinary medical education, research, clinical practice, and diagnostic and public health services.
For more information, visit the College, the MSU Veterinary Medical Center, and the MSU Veterinary Diagnostic Laboratory. Find us on social media @msuvets.
About Merck Animal Health
At Merck, known as MSD outside of the United States and Canada, we are unified around our purpose: we use the power of leading-edge science to save and improve lives around the world. For more than a century, we've been at the forefront of research, bringing forward medicines, vaccines, and innovative health solutions for the world's most challenging diseases. Merck Animal Health, a division of Merck & Co., Inc., Rahway, NJ, USA, is the global animal health business of Merck. Through its commitment to The Science of Healthier Animals®, Merck Animal Health offers veterinarians, farmers, pet owners, and governments one of the widest ranges of veterinary pharmaceuticals, vaccines, and health management solutions and services, as well as an extensive suite of connected technology that includes identification, traceability, and monitoring products. Merck Animal Health is dedicated to preserving and improving the health, well-being, and performance of animals and the people who care for them. It invests extensively in dynamic and comprehensive R&D resources and a modern, global supply chain. Merck Animal Health is present in more than 50 countries, while its products are available in some 150 markets.
For more information, visit www.merck-animal-health.com and connect with us on LinkedIn, Facebook, Twitter and Instagram.