Posted September 14, 2022

Several students at the MSU College of Veterinary Medicine have been recognized by a nationwide student organization for their work in diversity, equity, and inclusion.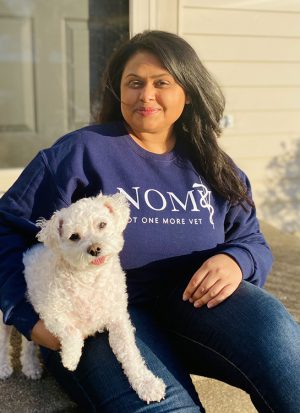 Uzma Manzoor (DVM class of 2024) has been selected as a winner of the 2022 Diversity, Equity, and Inclusion Showcase, a yearly award given by the Integrative Communication and Diversity Committee at the Student American Veterinary Medical Association (SAVMA). Uzma is a co-founder and co-president of Veterinary Wellness Initiative, president of BIPOC Club, a student representative on the CVM DEI Committee, serves in leadership in other organizations, and participates in youth outreach initiatives.
SAVMA's Showcase also honored Latinx Veterinary Medical Association (LVMA), whose president is Tiffany Vera Tudela (DVM class of 2025). LVMA is the MSU student chapter of a national organization that aims to increase visibility of Latinx veterinary professionals. The group is in part being recognized for its Cinco de Mayo Lotería event.

"We're immensely proud of the work our students have done in the areas of diversity, equity, inclusion, and justice," says Dr. Hilda Mejia Abreu, associate dean of Admissions, Student Life, and Inclusivity. "Uzma, the executive board of Latinx Veterinary Medical Association, and the members of the student organization all play an important role in making our community a just, inclusive, and open-minded space."
"Our students and student organizations are the heart of our community, and the College is home to a community that is proactive and determined to make not only our institution respectful of diverse perspectives, but the veterinary medical profession in general," says Dr. Kevin Leonard, assistant director of Diversity, Equity, and Inclusion. "We congratulate Uzma and LVMA on these well-earned distinctions from SAVMA."