MSU Veterinary Nursing program director, Taylor Epp, accepted the AVTE Program Director of the Year at the Association of Veterinary Technician Educators (AVTE) annual conference in August 2023.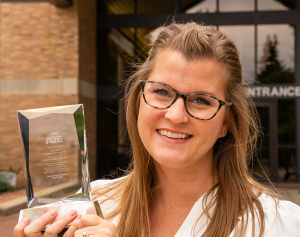 "The AVTE,[…]offers the Program Director of the Year Award to educators who have demonstrated exceptional strength in working collaboratively to generate creative learning opportunities for their students," per the AVTE website. Other considerations for an awardee include effective teamwork, building a respectful and supportive environment, reinforcing veterinary nurses' position as part of a veterinary health care team, and developing a professional image of their program.
Epp was nominated by her colleagues for her ability to enhance student learning through the hybrid and flipped classes curriculum, incorporating innovative technology, and championing the role of veterinary nurses in veterinary care through collaboration with DVM students — according to the letter of nomination written by Isabel Greene, Veterinary Nursing program faculty. Additionally, the letter highlights how Epp went "above and beyond" to support students through her leadership following the events on campus on February 13, 2023.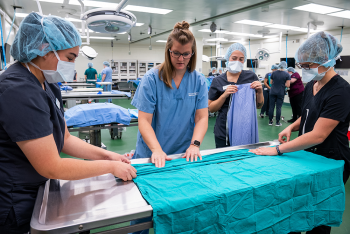 "Taylor walks through the College hallways ready to greet you with a smile. You can tell she truly loves what she does and will do everything within her power to make sure her students are set up for success," says Kendra Cournaya, a second-year Veterinary Nursing student.
This sentiment is shared by faculty and staff as well. "Taylor shines as a true beacon of excellence. Her dedication and genuine concern for each team member's growth, including our students, fosters an environment of collaboration and innovation. Under Taylor's guidance, challenges become opportunities, and achievements are celebrated," says Gina Malpeli, Veterinary Nursing instructor.
"Future students of the program are lucky to have a director like Taylor," adds Anna Zuver, a 2023 Veterinary Nursing graduate.