Dr. Kevin J. Stachowiak earned his doctor of veterinary medicine degree from the College in 2000, and is the owner of Caseville Small Animal Clinic in Caseville, Michigan. Dr. Stachowiak currently sits on the Michigan Board of Veterinary Medicine.
What is your current job, and what led you to your current career path?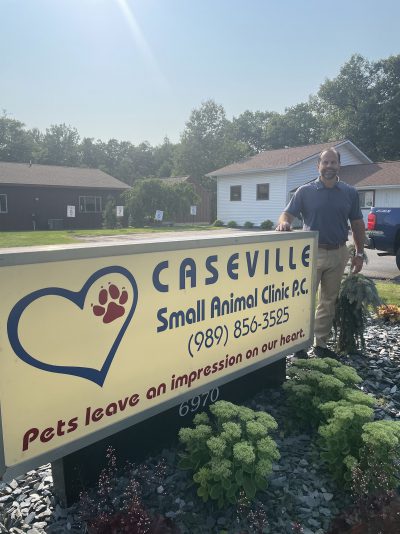 Life's a beach! Who doesn't love a good beach and great people? I never would have guessed that I would have ended up in a small lake town in the thumb of Michigan, but what a great place! After graduation, I was lucky enough to practice small animal medicine in both Louisiana and Michigan, which allowed me to hone my skills and benefit professionally through mentorship by the practice owners. Practice ownership had always been a goal of mine, so when an opportunity became available to do relief work at Caseville Small Animal Clinic while it was also for sale, I snapped at it. After working there for only three months, I knew that was the place I wanted to be, and made the big decision to purchase the clinic. Looking back, it was one of the best decisions I've made. What made Caseville stand out was the people of the community. The staff and the clients were friendly, welcoming, and enthusiastic about great pet care. They made Caseville feel like home; this community became my "second family."

Can you tell us about your passion for laser surgery, and how that came about?
I was fortunate enough to be exposed to laser surgery as a fourth-year vet student at MSU. One of my cases on soft tissue surgery was part of a research project evaluating patient comfort by comparing laser surgery to conventional scalpel surgery. At that time, lasers were exceptionally rare in veterinary medicine, but the first purchase I made as a business owner was a Cutting Edge surgical laser. After getting a few years of experience with my laser, I started a laser surgery consulting business, which allowed me to have fun teaching other veterinarians in the US and Canada how to utilize laser surgery in their daily practice. I have performed nearly 10,000 laser surgeries, and I'm still as enthusiastic about the benefits today as I was 19 years ago.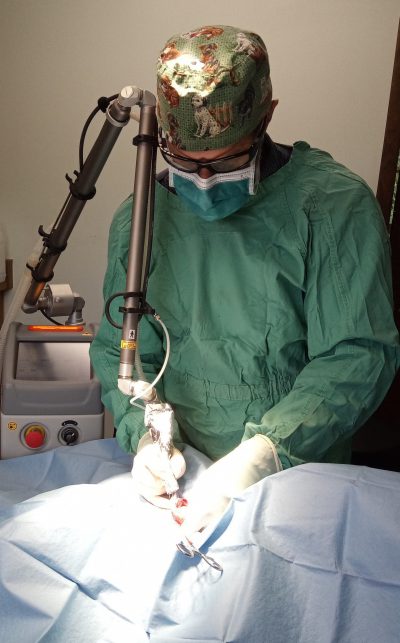 As a mentor in our CVM House Mentorship Program, what does it mean to you to mentor the next generation of veterinary professionals?
It goes without saying I do it for the future of our profession because these students truly are our future. However, I really just do it because it is so much fun! Getting to know our future veterinarians as they are students has helped me to become better connected to where our profession and industry is headed. We have the greatest job on Earth. There is nothing else I would rather be doing than practicing veterinary medicine. It is such an exciting and rewarding profession. When I get together with others learning this field, I can't help but share what I've learned, just as others have helped me throughout my process.
What advice would you give to current veterinary students and students interested in veterinary medicine as a career?
My first piece of advice would be to choose your community, meaning the people you share your career with. Who you surround yourself with at work, such as the clients, support staff, and practice owners, need to be your type of people. They should be people that share the same qualities, goals, ambitions, and professional boundaries as you. You need to have people around you that make you feel valued, heard, and supported. Find a workplace that values you and encourages you to be the best, healthiest version of yourself. There are so many different ways to be a vet. Choose one that fits your personality and the life you want to lead, and then find the people you want to do it with.
If I were to encourage one skill set in your development, I would push you to focus on strengthening your emotional intelligence. Emotional intelligence is the ability to understand and manage your own emotions, and those of the people around you. Studies have linked emotional intelligence to greater career success, leadership talent, and happiness. I don't think it is necessarily something you will directly learn in the classroom, but its benefits will be valuable in your professional and personal life. Emotional intelligence has certainly helped me communicate more effectively with my clients, staff, and even my friends and family.
Do you have any unique stories from veterinary school or early in your career?
When people ask me about some of my favorite or most unique cases, the first one that always comes to mind is when I was on Pathology rounds and necropsied a penguin. At the time, I didn't know anything about penguins. Well, now I at least know that they are prone to getting Aspergillus pneumonia. You probably shouldn't ask me to treat any penguins though because so far, I'm 0/1 at saving them…
What was the most interesting class you took at MSU and why?
I have an answer that is going to shock most people. My favorite class was Bacteriology. Dr. Reddy was my instructor, and his approach was just fascinating. Somehow, he managed to make a class that should have been boring a bit more exciting. The organization and detail he brought to class made me feel like I understood his training, instead of just memorizing a bunch of long words. It was also my first year in vet school and the only "abnormal" stuff we learned. We spent the rest of the year studying "normal." I think that really helped Bacteriology stand out.
What's something you learned in veterinary school that you still use today?
In vet school, I learned that we are "practicing" veterinary medicine because we have not "perfected" it yet. Continuing medical education is just as important now as it was while I was in school. With over 20 years of experience as a licensed veterinarian, I continue to see stuff I have never seen before.
Are you part of any professional organizations?
I think professional organizations are extremely important and their importance is often overlooked. I am currently on the State Board of Veterinary Medicine, which is new and exciting for me. I am also an active member on the MVMA's Legislative Advisory Committee and recently joined the MVC Planning Committee. I have previously been president of the Michigan Veterinary Medical Association and Saginaw Valley Veterinary Medical Association. I have also been secretary of the Thumb Veterinary Medical Association.
What are your hobbies or interests outside of veterinary medicine?
I love the outdoors. My family and I spend our time off work going for family walks or bike rides. Weather permitting, we also like to go fishing or catch sunset cruises.
What's your favorite way to celebrate being a Spartan?
We celebrate Spartan Nation at the clinic on a daily basis. It is part of the culture in our practice. Whenever a client comes in with U of M apparel, I always tease them about getting the U of M surcharge added to their bill. Likewise, if a client comes in with MSU apparel, I offer them the Spartan Discount. About 15 years ago, one of my clients sent me a bouquet of blue and yellow (I dare not say maize) flowers during the week of the MSU/U of M football game. Ever since then, she has continued to send them, but I return the favor by sending her a bouquet of green and white flowers. Go Green!