Dr. Rachel Cezar-Martinez received her doctor of veterinary medicine degree from the Michigan State University College of Veterinary Medicine in 2002. She is currently the Live Animal Imports Director in Veterinary Services with the United States Department of Agriculture – Animal and Plant Health Inspection Services (USDA-APHIS). She became an officer in the US Air Force through the Air National Guard starting in 2006 and remains in a Major Officer position and in Inactive Ready Reserves since 2012. Dr. Cezar-Martinez lives in the Washington, DC area with her husband, 5-year-old son, and 2-year-old daughter.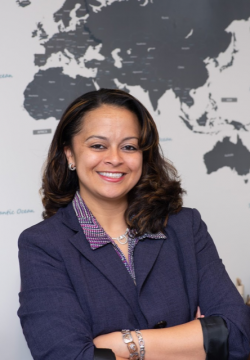 What led you to your current career path?
My path started while I was in school at MSU. The Michigan Department of Agriculture came to the veterinary school recruiting students to assist with the bovine TB outbreak and rabies surveillances. I started with them as a student and loved it. That led me to working with the USDA and haven't looked back since.
Why is inspiring generations of future veterinary professionals, as well as professionals who may be interested in a career transition to government or military, important to you?
It is important to me because I love my profession and want to let kids, especially those that are under-represented in the profession, to experience working with animals. I would like them to see that there are veterinarians of color as well.
Also, I love to talk about career transitioning because the government and military can bring so many benefits to those that want to change their path in the profession.
What are your hobbies or interests outside of your work?
I am an adjunct professor for the College of Southern Maryland where I teach the veterinary assistant program.
I also have a farm (Double Z Cowboy Corral) with petting animals and horseback riding. I work with the DC STAND foundation to help kids in the inner city learn about animals and how to ride western.
As a field, veterinary medicine is pushing to #WakeUpVetMed and increase diversity, equity, and inclusion. What does that mean to you in your role as diversity and inclusion management advisor within USDA-APHIS?
This means a lot to me because ever since I graduated from MSU, I had the drive in my heart to do as much as I could to enhance diversity in our profession and paying it forward, because you can't just do it alone.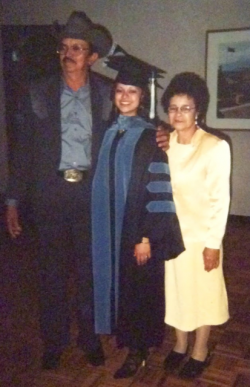 I have generally given presentations to vet schools and pre-vet summer camps nationally. Now, locally within in the Washington DC, Maryland, and Virginia area, I have the fortunate opportunity to teach students from under-represented areas. I tell them about my career path and teach them about animals through my adjunct teaching at the College of Southern Maryland, and also at our petting farm and horseback riding facility, Double Z Cowboy Corral.
Are you part of any professional organizations?
Women's Veterinary Leadership Development Initiative: former president
District of Columbia Veterinary Medical Association: former executive director
American Veterinary Medical Association: member; previously part of house of delegates
American Association of Equine Practitioners: part of diversity task force
National Association of Federal Veterinarians: member; previously part of board
Multicultural Veterinary Medical Association: founding board member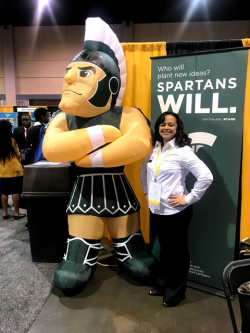 In looking back at your veterinary education, what's something you learned at the College that you still use today?

Networking with people and sharing interests.
What was the most interesting class you took?
All clinicals and externships.
Who was your favorite professor at the College and why?
Dr. Jon Patterson. He was always there for me.
What's your favorite way to celebrate being a Spartan?
Wearing green and white when I travel, especially in airports. It's always cool for someone to scream at me "GO GREEN," and I say back "GO WHITE!"