The night before graduates walked the stage at the Breslin Center for the advanced degree ceremony, the Master of Science in Food Safety (MSFS) graduates gathered for a celebratory dinner in honor of their accomplishments.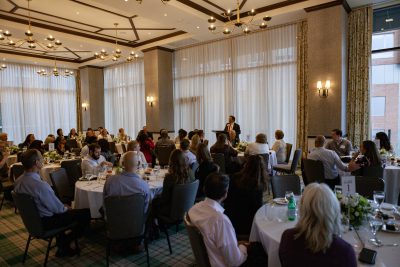 Graduates and their families dined with the MSFS team, faculty, and classmates, some of whom they'd only met online. They also had the opportunity to meet and hear from some members of the CVM administration, including Dr. Douglas Freeman, Interim Dean, Dr. Srinand Sreevatsan, Associate Dean for Research and Graduate Studies, and Dr. Annette O'Connor, Chairperson of the Department of Large Animal Clinical Sciences.
Many graduates flew across the US, coming to East Lansing from states including California, Colorado, Georgia, New Jersey, and Texas to attend the ceremony. They work for companies such as Diamond Onions, General Mills, Foremost Farms, Salad and Go, and H-E-B.
During the presentation, students were recognized individually and greeted by Dr. Patty Weber, the MSFS Director. In addition to honoring all the recent graduates, Dr. Weber also presented J.R. Foster with the 2022 Edward and Mary Mather Outstanding Food Safety Student Award.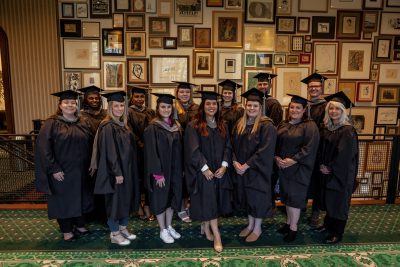 "Since our program is uniquely structured as an online master's degree program, sometimes we do not have the privilege of meeting our students face-to-face, so welcoming them to campus is very special," says Dr. Weber. "We are so proud of them, and celebrating their achievements in-person with their families is an honor."

MSFS graduates are unlike any other. They are working professionals tackling the constant and rigorous work of keeping food systems safe. As Interim Dean Freeman said at the dinner, "Food safety only affects those who eat food." MSFS graduates are leaders, protectors, advocates, and change-makers, and we celebrate the work they do every day.