Featuring Dr. Danielle Marturello, assistant professor for the Orthopedic Surgery Service at the MSU Veterinary Medical Center; Dr. Loïc Déjardin, professor, endowed Brinker chair, and head of the MSU Orthopedic Surgery Service; Dr. Kelly Schrock, first-year surgery resident; and Hannah Hipkiss, MSU DVM Class of 2023.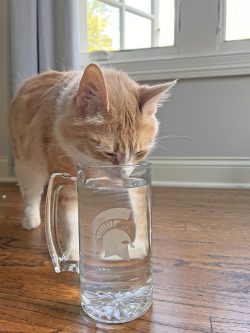 Otis' first holiday season did not go according to plan. As a seven-month-old kitten, Otis' owners took him on a voyage from Chicago to Michigan for a family trip. But while many of us were sipping cocoa and decking the halls, Otis was at the Michigan State University Small Animal Clinic to recover from a leg-saving surgery.
After getting under one of his owners' feet—as every kitten loves to do—Otis seemed uncomfortable and wouldn't use his right front limb. "The first clinic we called was not able to perform the reparative surgery Otis would require. So, they offered amputation as an option," says Otis' owner. "We were devastated to hear that he may have to learn to live with three legs. At the time, he wasn't even a year old, and loved to run and play with his three cat brothers."
For the next 12 hours, Otis' owners called clinic after clinic. But the clinics that answered either couldn't see Otis until January, or they were only able to perform an amputation. After all hope seemed to be lost, the phone rang. It was Dr. Danielle Marturello of the MSU Orthopedic Surgery Service.


"I remember saying, 'Please don't cut it off! We can fix this,'" says Dr. Marturello. "Because we have such great expertise at MSU and the proper tools, we can fix most fractures without amputation."

Moments after that phone call, Otis and his owners were in the car and on their way from Grand Rapids to East Lansing. Upon presentation to MSU's Emergency and Critical Care Medicine Service, Otis was placed on pain medication. He was transferred to the MSU Orthopedic Surgery Service for surgery the following day.
"I'm a graduate of MSU—Go Green!—and knew their program was top-notch. On top of that, the entire staff could not have been more welcoming," say Otis' owners. "Even though we were sad and nervous to leave Otis, we knew he was in good hands." The next day, Otis underwent surgery to repair his humeral fracture (a fracture in the middle of his upper-right arm bone). Little did he know, not only would Otis' surgery allow him to keep his leg—he would make MSU history.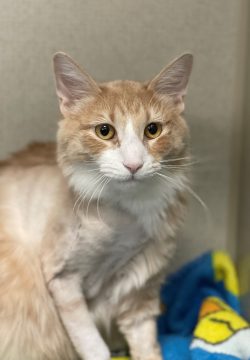 Otis is the first cat ever to have an I-Loc 4mm interlocking nail placed in their humerus. The I-Loc is an implant placed inside of the bone and locked with bolts, to provide stable repair of long bone fractures, like the humerus. The I-Loc nail was patented by the head of the MSU Orthopedic Surgery Service, Dr. Loïc Déjardin. "It was a game-time decision," says Marturello. "Our options were a 3mm nail or a 4mm nail. In our experience thus far, no cat humerus has been large enough to accept a 4mm nail. However, in Otis' case, we were concerned about the open growth plate at the top of his bone, and we knew that we would only be able to place one bolt [as a point of fixation]. Our planning software indicated that the 4mm nail would fit, so, we went into surgery with both implants. Our concern was that with only one bolt, the 3mm nail would be at risk of failing due to the small size, whereas the 4mm would be a safer choice mechanically, if it fit Otis' humerus in surgery. I remember Dr. Déjardin and I looking at one another during surgery and saying, 'The 4,' at the same time," Marturello laughs as she recalls. "We felt it would give Otis the best chance for a smooth recovery and return to function."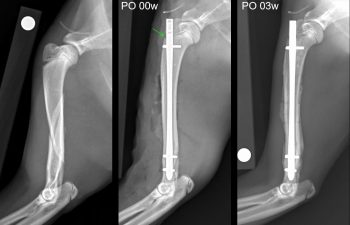 Thanks to on-the-spot collaboration and state-of-the-art treatment, MSU surgeons made the right decision; post-op, Otis recovered uneventfully. In fact, Marturello has a video of the young rockstar walking around the day after surgery.
"It's really unique and special—to be able to save these injured limbs," says Marturello. "I'm just so glad I was able to reach Otis' owners and save his leg. Plus, he's really the most handsome, sweet boy."
As far as prognosis is concerned, Otis' is outstanding! The MSU Orthopedic Surgery Service predicted he would make a full recovery and return to normal function within only a few months' time. Of course, that includes very detailed at-home care instructions and limited activity. Luckily, Marturello recommended a "recovery" cat tent, which provided an easier transition for the energetic, but recovering, Otis. The tent essentially allowed him to do his own physical therapy and stay in one, large, confined area that had everything he needed.
Otis walks around the MSU Small Animal Clinic one day post-op. He limps, but is weight-bearing and seemingly super happy. "When we picked him up, we met with Dr. Marturello, who showed us a video of Otis walking from earlier that day. We couldn't believe it! Midway through the appointment, Dr. Déjardin came in and took the time to walk us through the surgery. He even emailed us an article on the nail/pin used on Otis."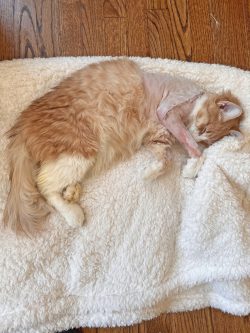 Five months post-op, Otis is living his very best cat life (pictured here). "Though it was tough to keep Otis from running and jumping, his recovery went remarkably well. We were given very detailed instructions for his care and medication, which was extremely helpful," say his owners. "Everyone at MSU went above and beyond, and we are so grateful to the entire team. Today, Otis is as good as new; you would never know he had been injured."
For more information on the I-Loc, including Dr. Marturello's master's thesis on the 3mm and 4mm nails, please visit the links below: