In the world of veterinary orthopedics, few names command as much respect as Gretchen Flo. Now, after more than 50 years of active clinical service, teaching, and research, Flo is retiring—for real this time.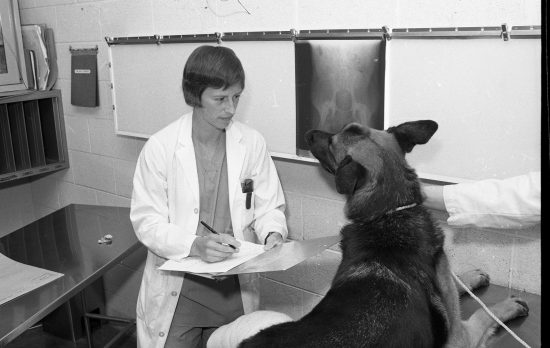 Professor Emeritus Gretchen Flo, DVM, MS, is one of the first women in history to become a veterinary orthopedic surgeon. Today, her reputation continues to precede her as one of the most outstanding surgeons in the entire profession. In addition to her incredible clinical skills, Flo developed her own set of surgical procedures, which are routinely used today around the world to stabilize canine stifle joints after cranial cruciate ligament repair procedures. (While Flo refused to patent and profit, or even name the procedures after herself, they are generally referred to as "the Flo technique.") Her co-authored book Brinker, Piermattei, and Flo's Handbook of Small Animal Orthopedics and Fracture Repair, originally published in 1983, is considered classic in veterinary medical education, now in its 5th edition with more than 10 language translations. Those who value formal accolades will note Flo's 2010 Merit Award from the American College of Veterinary Surgeons (ACVS) for her "outstanding career in veterinary orthopedic surgery and [being] a woman of strength and creativity."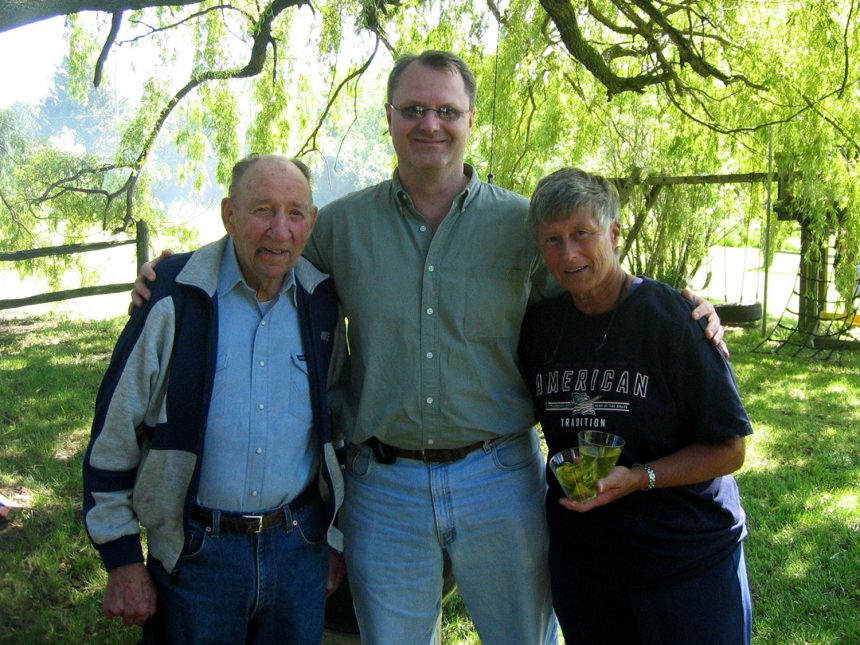 Fast Facts About Dr. Flo
Earned her DVM in 1966 from the MSU College of Veterinary Medicine with high honors and her Master of Science from MSU in 1969
Spent her entire professional surgery and academic career at the MSU College of Veterinary Medicine
Earned many awards including:

The Outstanding Woman Veterinarian of the Year in 1976 and 1977 from the American Veterinary Medical Association (AVMA)

The Faculty Women's Award for Excellence in 1977 from the AVMA

Served the field of veterinary orthopedics as secretary-treasurer, a two-time member of the board of directors, a two-time scientific program chair, president-elect, and president for the Veterinary Orthopedic Society
"Retired" in 2002, but kept working part-time at the MSU Veterinary Medical Center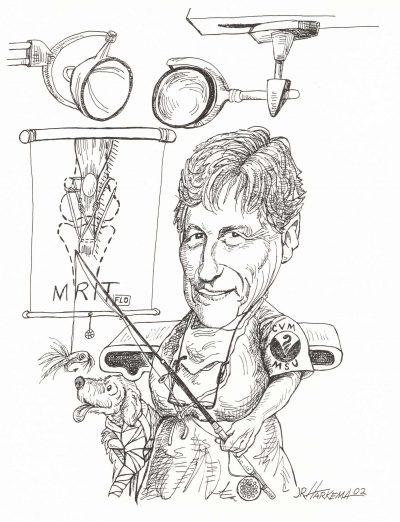 The Biggest Impact of All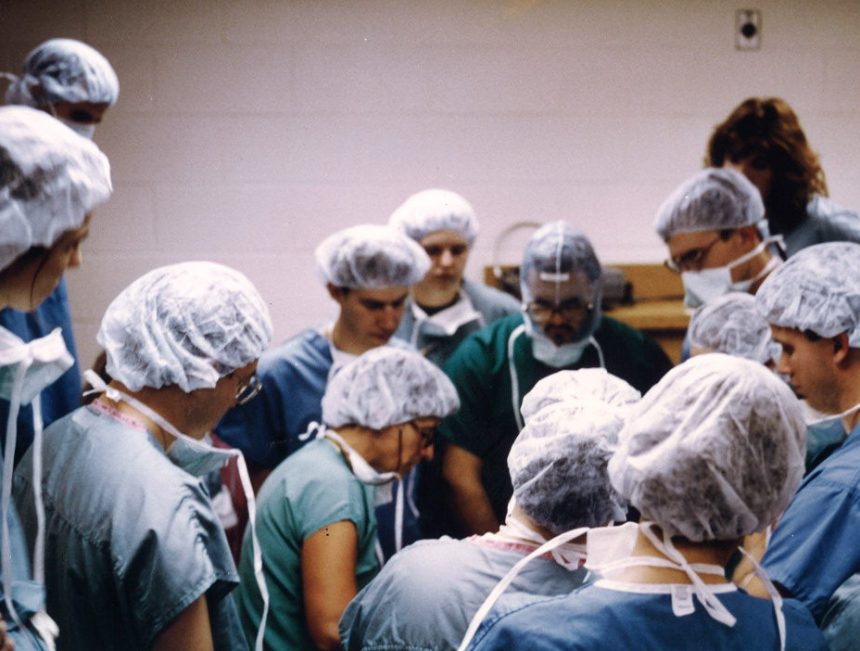 There's been no shortage of celebration, coupled with a little light mourning, for those who will continue working at MSU without Flo. This month alone, Flo was thrown three surprise parties (so far). There have been plenty of treats, laughs, and you-had-to-be-there stories.
With all this brava, it's easy to see the many ways Flo's work has improved veterinary orthopedic surgery and, in doing so, helped countless animals and their families. But there's another thankful group of individuals who sing her highest praises—her mentees.
Flo has mentored literal thousands of veterinary students and professionals. (ACVS reckons she has mentored more of their residents than any other surgeon in the world today.)
Here's what just a handful had to say:
"An irreplaceable mentor"
"Gretchen Flo has been, and remains, an irreplaceable mentor to me—beyond orthopedics, on a personal level. Flo is a life mentor and a life coach, who has been essential to my success."
"Amazed at your commitment"
"I'm honored that I can call you a mentor. All of us learned so much from you, and [are] just amazed at your commitment to veterinary medicine and Michigan State. You really committed a large portion of your life, and we really, really appreciate you and thank you for all the time you gave to us all. Thank you for all you have done for all of us, and we genuinely appreciate and love you."
"Thank you for guiding so many of us"
"Thank you for being such a role model to me in the formative years of my career. You were an amazing surgeon, but also a very strong female surgeon, so thank you for guiding so many of us."
"The things that you taught me"
"I feel so fortunate that I got to train with you as a resident and then work alongside you as faculty. I really always loved the conversations we had about wood working and gardening and I hope that we're still going to be able to catch up on life over some Witches Brew. I'm really going to miss your presence in the clinic, but I'm always going to carry with me the things that you taught me."
"You are my superstar!"
"I'm very proud to be one of your trainees, and I cherish all of the moments we had together during our surgery rotations. I wish you all the best. You are my superstar!"
"I can't think of a better legacy"
"You are, and always will be, my favorite teacher. There's not a day at work that goes by that I don't use something that you've taught me, and with all the residents you've instructed over the years, I know I'm not unique in that regard. I can't think of a better legacy to leave behind than that. Have a glass of wine, kick back, and enjoy your well-deserved retirement."
Throughout her time at the MSU College of Veterinary Medicine, Flo always paid close attention to her mentees and colleagues, but never once forgot those with whom she cut her teeth. Flo is an active reunion participant with her MSU DVM Class of 1966.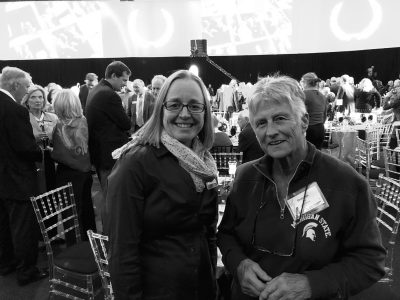 Outside the world of veterinary medicine, Flo's creativity, skill, and sense of adventure know no bounds. From wood working and Petosky stone hunting to fly fishing and snowshoeing, you may not see Flo at MSU, but there's no telling where the next encounter will take place.
Leadership in orthopedics at the MSU College of Veterinary Medicine began with Dr. Wade O. Brinker. Ever since, the College has built upon that leadership in research, training, and clinical work.
The Michigan State University College of Veterinary Medicine's mission is to be the premiere destination for teaching, innovation, care, and service. Join us.
Thanks to Dr. Loïc M. Déjardin for photos.