Kerecis Fish Skin Graft Heals "Rooster" the Horse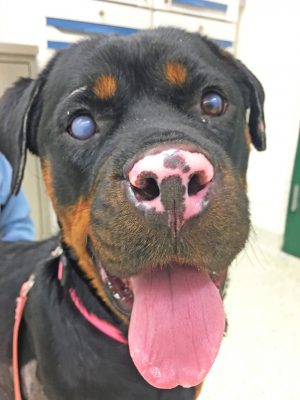 In March, we met Stella, the canine victim of a house fire. Since then, Stella has been recovering from smoke inhalation, pneumonia, corneal ulceration, and partial- and full-thickness burn wounds that covered 10 percent of her body surface area. Though all of Stella's injuries were severe, her second- and third- degree burns and the lung damage required the most attention.
Due to the intensity of her burns and concurrent injuries to her lungs, the Hospital's Soft Tissue Surgery Service turned to a less traditional method to treat her burns. Typically, with large-surface-area wounds, surgeons use free tissue grafts, local flaps, tissue expanders, primary closure or other potential regenerative techniques. These techniques, however, can involve substantial donor-site morbidity and prolonged operative time, all of which can increase the hospital stay and costs associated with hospitalization.
With Stella's extensive pulmonary injuries, her medical team considered a unique treatment—descaled Icelandic-cod-skin grafts. Dr. Brea Sandness, surgical intern for the Hospital's Soft Tissue Surgery and Orthopedic Services, and fourth-year DVM student, Anna-Marie Struble, presented the idea. The process was overseen by Dr. Bryden Stanley, Dr. Kathleen Ham, and Dr. Kathryn Pitt from the Michigan State University College of Veterinary Medicine and Veterinary Medical Center.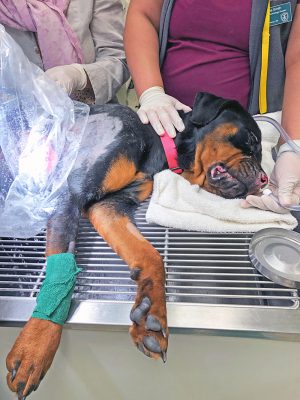 "We had to get creative to treat Stella's burns. There was significant trauma to her lungs which took priority. She wasn't a great candidate to sedate heavily or anesthetize. We needed only minimal sedation to place these grafts, so we could start the healing process without putting her fragile lungs, or other areas of her body, under additional stress," says Sandness.

During her Soft Tissue Surgery clinical rotation, Struble assisted Sandness with Stella's case. She researched commercial medical fish-skin grafts online and found Kerecis of Isafjordur, Iceland. Sandness contacted the Kerecis U.S. Chief Operations Officer, Chris Harte, and the VP of Strategic Initiatives, Gunnar Johannsson. "They were excited to be able to help Stella and to have the opportunity to try their product in a veterinary application. Their grafts had not been used in this setting before," says Sandness.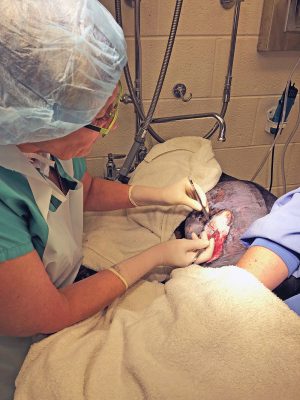 To make it so that Sandness and her team could apply the product on Stella's burn wounds as quickly as possible, Randy Seeliger with Ametus Group, one of the companies that sells Kerecis products in the United States, overnighted the grafts to MSU. The grafts and cost for shipment were donated to Stella on behalf of Kerecis.
The Kerecis Omega3 product line has been approved for use in humans in the United States and Europe but, before Stella, had not been applied in veterinary patients. This is the first usage of Kerecis Omega3 in a veterinary setting.

Fish skins to the rescue: how this novel treatment is healing Stella.
"Stella's burn injuries presented unique challenges that naturally could slow wound healing and cause inflammation, bacterial infection, pain, and scarring," says Sandness. "The rapid contraction and scarring process that occur as burn wounds heal can leave patients like her with limited functionality and increased risk of inflammation and infection, which could endanger the life of the patient. A burn wound treatment that creates a barrier to infections and enhances the body's response to healing was essential to reduce her risk of mortality.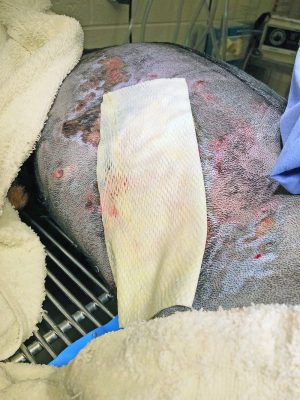 The fish skin covers the exposed wound and protects it from bacteria and the environment. It also limits heat and water loss, which can be critical in treating large burns. One key benefit of using a biologic product that integrates into the wound is that there is less need for dressing changes, which can be particularly painful when the dressing sticks to the wound. The risk of infection in burns can otherwise require daily dressing changes, which put the patient through repeated trauma that can be avoided with the fish skin.
"It's incredible how a company half a world away would step in to help a family they didn't know," says Sandness. "Their generosity and genuine care for Stella and her family are great reminders of how good humanity can be."
Together, Kerecis and the Hospital's Soft Tissue Surgery Service have opened a new door in the veterinary medical profession for additional patients to benefit from fish grafts. "Stella's case is an inspiration. The use of these grafts will open the podium for discussion on the use of fish grafts in the veterinary medical field," says Sandness, who will present Stella's case at the Society of Veterinary Soft Tissue Surgery Convention in Asheville, North Carolina, this June.
Stella is a living example that the fire within her burned stronger than the fire that injured her.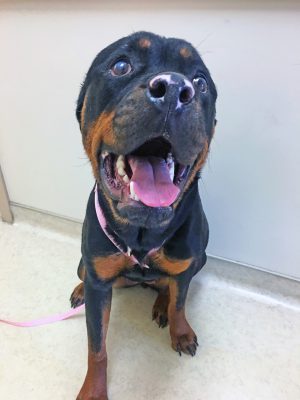 Scaly and smiley: Stella's new normal
Thanks to the Icelandic cod skin grafts, Stella's burn wounds have started to heal. "I have enjoyed watching Stella heal, fight, survive, and overcome terrible odds," says Sandness. "She is a living example that the fire within her burned stronger than the fire that injured her."
And at MSU, Stella ignited a fire within all the Hospital's clinicians, technicians, and students who worked with her. Her wagging tail and fierce determination spread like wildfire and fueled the Hospital's flame to not only heal her, but to innovate a new solution that would heal her in the most effective and least painful way possible.
"It's through the teamwork of the Hospital's technicians, students, and Emergency and Critical Care, Soft Tissue Surgery, and Ophthalmology Services that we were able to expand upon our knowledge and treat Stella's wounds of her lungs, eyes, and skin," says Sandness. "We believe this is the first time this type of graft has been applied to any animal. I'm honored to be a member of MSU's team, as they are always looking for the newest and potentially revolutionary techniques in every department."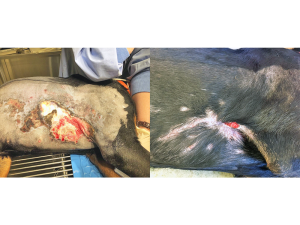 Though the cod grafts healed Stella's burn wounds, her lungs are still struggling. "I'm happy to report that Stella is living life to the fullest," says Sandness. "She does, however, continue to have difficulty with the injuries sustained to her lungs. It is unclear if these will heal and how they will affect her life. Her follow-up appointments and monitored health are going to be essential to her continued recovery."
Stella's owners, who have been doing whatever it takes to make Stella comfortable and heal her wounds, regularly speak and meet with the Hospital's Soft Tissue Surgery Service. And even though the debris from their house fire has yet to be cleared, they are happy that their family is together. "We would like to thank you all for going above and beyond to make sure Stella is always as comfortable as possible and for being so understanding," says Mrs. Darmer, Stella's owner. "Sometimes, it takes a tragic event to realize how blessed we are."

Fish skins may be the new go-to treatment for burn wounds—here's why and how they work
In using a fish-based graft, there is no risk of disease transmission from fish to human or animal. The acellular fish skin graft allows for a more naturally intact product and offers benefits such as, tension resistance, hold up against moisture, different collagen types, enhanced cell, Omega-3 presence, and proliferation and vascularization. Tilapia grafts, like the ones that have been seen in use on social media recently, are different from the product used on Stella; the tilapia grafts are scaled, whereas Stella's graft is unscaled.
The wild cold-water source results in low bacteria, no risk of viral transfer, and high Omega3 fatty acid content. The cod is gently processed, which preserves its natural elements; this in turn allows the skins to retain more natural healing power and a structure that is homologous to human skin in form and function.
After grafting, the cod-skin recruits the body's own cells and ultimately is converted into living tissue. This ingrowth of cells is the fundamental first step in tissue regeneration. These acellular grafts are reapplied as needed during the healing process. The fish-skin grafts, which are FDA approved, are available in multiple countries, and are covered by Medicare and other insurance.