Exchange program objectives
Participants will:
Attend lectures and special events
Work with a mentor from MSU
Practice teaching techniques and curriculum development
Learn about teaching programs in American veterinary colleges
Be exposed to top-of-the-line research techniques and methods
Learn top-of-the-line diagnostic techniques and deliveries
Learn about American animal agriculture industries with a special focus on Michigan
Experience the interaction between organized veterinary medicine, universities, and government agencies at the federal and state levels
Learn about the working relationships between the University and federal and state programs in disease prevention and control
Make linkages with faculty for future collaborations in teaching, diagnostic medicine, and research
Develop an implementation plan to apply learned teaching techniques in Africa
Learn to write grant proposals
Experience American culture
For the past three years, the MSU College of Veterinary Medicine has hosted a group of junior faculty members from veterinary colleges in sub-Saharan Africa during fall semester. The Faculty Exchange Program (FEP) participants learn about teaching and research techniques, American veterinary industry and culture, and other key topics by attending lectures and special events, practicing, and working with an MSU mentor.
"Phi Zeta is a favorite," Dr. John B. Kaneene, University Distinguished Professor of Epidemiology and Public Health in the College of Veterinary Medicine, says of the College's Phi Zeta Research Day, an annual event that celebrates research conducted by faculty and students across campus. "They were so impressed by that, all of them. They've proposed it to their own colleges, and a few have already implemented it."
Kaneene oversees the FEP alongside Dr. Dalen Agnew, associate professor for the Department of Pathobiology and Diagnostic Investigation. Together, they coordinate lectures, research laboratory experience, and site visits for the junior faculty. The junior faculty are given grant money to purchase teaching materials like books and research supplies to take home with them and to attend a conference of their choice. Other popular excursions have included visits to Michigan farms and zoos, hay rides, Spartan football games, and Lake Michigan.
"The culture is also important," says Agnew. "Getting the Michigander experience. They get to see snow and attend a Thanksgiving Day celebration."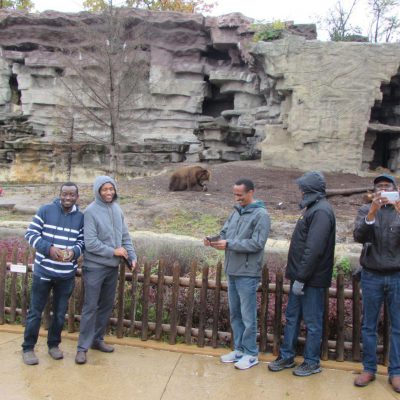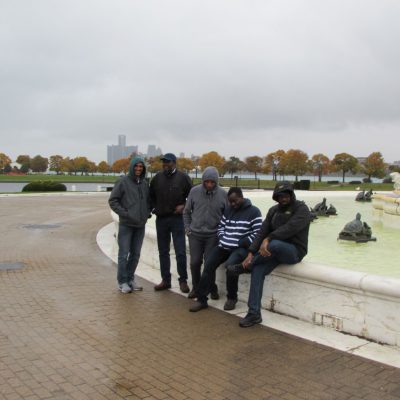 Program funding
The FEP at the College is funded by the United States Department of Agriculture's Foreign Agriculture Service's Faculty Exchange Program from Veterinary Colleges in Africa Grant. The award, which began in 2016 and will end at the end of 2019, is for $630,057.67. Drs. John B. Kaneene and Dalen Agnew are the recipients of this grant and oversee the College's FEP.
Making connections
The junior African faculty aren't the only ones who walk away from this program with new knowledge and tactics.
"We also try to get information from them," says Kaneene. "They present their courses, and we learn about their methods of delivery and how they evaluate students."
Additionally, after program participants return to Africa, their mentor visits them within three-to-six months. Mentors travel to their mentee's home universities to check in, support their mentee's efforts, and have a cultural experience of their own.
Last year, Dr. Bryden Stanley, associate professor for the College and head of the Soft Tissue Surgery Service at the MSU Veterinary Medical Center, mentored Dr. Willy Mwangi from the University of Nairobi. In May, she visited him in Kenya to tour his university, meet his colleagues, experience Kenyan culture, and discuss strategies surrounding funding, research, infrastructure support, teaching, and hospital management. This year, she is mentoring Dr. Sam Okesh from Makerere University in Uganda, and plans to visit his university next year.
"[The program] is a really effective way of directly establishing a relationship and finding what challenges they're facing," says Stanley. "MSU and the university work on sharing ideas and plans to confront those."
The program also facilitates a great deal of networking. During their time here in the States, the African junior faculty meet with American faculty, industry leaders, and invited guest speakers to discuss veterinary medicine and research and to exchange ideas.
"It's all about networking," says Agnew. "I think that's the most important thing that comes out of this. From that come grants and research."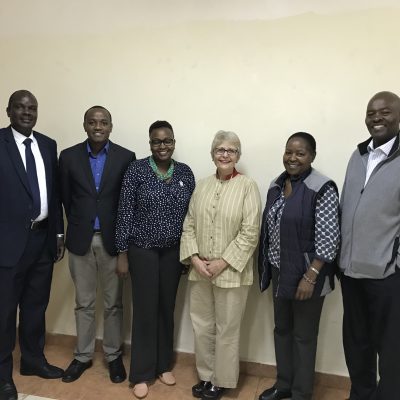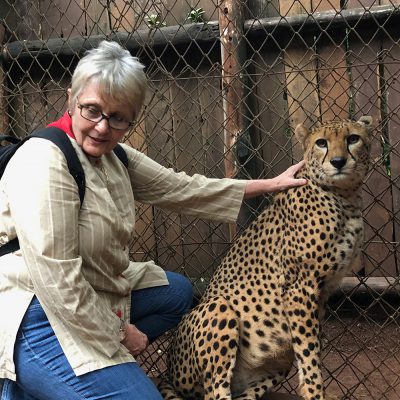 African countries
Junior faculty have visited from:
Ghana
Uganda
Nigeria
Kenya
Tanzania
Ethiopia
Working with the future
The candidates selected for this program are junior faculty for a reason; the program's overarching goal is to improve veterinary medical education and research.
"Our goal is to say, 'there's another way to do it,' and they absorb it," says Agnew. "They suck it up like sponges. And then they go back and they're creative, and they're in a position where they can change things."
According to Agnew, the program has been successful thus far. Past participants have implemented new teaching techniques, received grant funding, and adjusted their classroom dynamics.
"It's a very different approach, and I think there's a lot of progress," Agnew continues. "I'm really, really excited about the program and how these faculty are amazing and their enthusiasm, not just while they're having fun, but when they go back home, all the things they want to do and get done."
Kaneene agrees, and says he sees how much of an impact American culture has on the African junior faculty.
"They're impressed with the American attitude toward work, that people here are very proud to be working," says Kaneene. "And everybody—they said when you talk to a technician or someone else in the MSU Veterinary Medical Center or on a site visit, you think that's the only thing they want to do in their life. They're impressed that people don't want to be given, they want to earn it. To me, that attitude is more important than other things. And they're quick to learn that."
Candidates for this exchange program are selected by the United States Department of Agriculture after a rigorous application process and interview. Iowa State University is the only other veterinary college in the United States to offer programming through this grant. For more information on Michigan State University's program, contact Mr. Edward Gerard at Edward.Gerard@fas.usda.gov.