Uzma Manzoor's dedication to creating inclusive veterinary communities has netted her a Merck award; She discusses the challenging work that led to her win.
Uzma Manzoor, DVM class of 2024, is a recipient of the Merck Animal Health Diversity Leadership Scholarship. The scholarship was awarded to 18 veterinary students this year for their advocacy for diversity, equity, and inclusion (DEI) in the veterinary profession.
In that regard, Manzoor is a powerhouse. Her involvement in several student organizations and DEI initiatives at the MSU College of Veterinary Medicine is part of a packed resume that was submitted for scholarship consideration. "We are fortunate to have an exceptional ambassador at the College nurturing future students and veterinary professionals," says Dr. Hilda Mejia Abreu, associate dean of Admissions, Student Life, and Inclusivity, in the letter of nomination she wrote for Manzoor.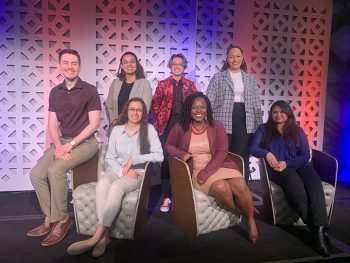 IN FROM DAY ONE
Manzoor's involvement in DEI work at the College began before she had even started her first year. The summer before she started classes, she sought out opportunities to connect and help out with existing clubs via the class of 2024 Facebook page, which was how she joined the then-burgeoning BIPOC club. At that point, Manzoor already had strong networking skills. "I started reaching out and getting all these events together, so I joined as the outreach coordinator," she says. Now she's the outgoing president for BIPOC club and is in the process of handing down the responsibilities as she prepares for busy semesters on clinical rotations.
Her involvement doesn't end there, though. Manzoor is also the class of 2024 DEI Committee student representative, a founder of the Veterinary Wellness Initiative, a regular participant in the new student orientation DEI panel, and a youth mentor to underserved communities through This Is How We Role, among other things. It's also not the first time she's won an award for DEI work. In 2022 she received the Student American Veterinary Medical Association (SAVMA) Integrative Communications and Diversity Committee award.
THE CHANGE SHE WANTS TO SEE
Manzoor's drive to get involved comes from a desire to create a more inclusive veterinary world for students and practitioners down the line. "I'm a big believer of that statement 'be the change you want to see.'" She states that coming into veterinary medicine later than many of her peers (after pursuing a master's and career in behavioral science) has given her the confidence of age and experience to reach out to people without hesitancy for causes she believes in.
Representation in veterinary medicine is one of those causes. Despite an interest in working with animals, Manzoor didn't pursue veterinary medicine until applying to vet school in 2019 and cites that she never had exposure to veterinary medicine beforehand. "Being South Asian in veterinary medicine can be a very isolating experience… I literally didn't know anyone who was a veterinarian. And it felt like an unrealistic career choice because I didn't know anyone in the profession that looked like me," she says.
Manzoor also recalls arriving to her interview with the College and looking around the room only to notice she was the only South Asian interviewee present. This is one reason Manzoor participates in youth mentorship. According to Manzoor, many students she works with express interest in veterinary medicine after an outreach day. "It's pleasant to see, because many of the kids don't have exposure to STEM-based fields, especially students of color."
DIVERSITY IN VETERINARY MEDICINE
Veterinary medicine disproportionately lacks diversity. According to the U.S Bureau of Labor Statistics demographic data for 2021, only 6.7% of Veterinarians and 11.5% of Veterinary Technicians were Black, Asian, and/or non-white Hispanic/Latine. If compared to the total population of healthcare practitioners and related technical occupations in the same year where 24.4% were non-white, the veterinary field is lagging. (Indigenous American, and Middle Eastern/North African populations were not separately identified in this data and statistics on other minority statuses such as disability, religious, or LGBTQIA2S+ status were also not available.)
"It's unfortunate that a lot of the responsibility to make the change falls on people of color or people from different minority backgrounds and that can be burdensome. There's no sugar coating that," Manzoor says. Growing interest and education in DEI initiatives has encouraged people from all walks of life to become role models for future veterinary professionals. "If enough of us advocate and speak up, ten years from now it may be an even better experience for the incoming classes," adds Manzoor.
She also notes that small contributions can have rippling effects. On Manzoor's interview day at the College, despite initial feelings of isolation, Dr. Mejia Abreu arrived and began speaking in Spanish to another prospective student, and Manzoor began to feel more comfortable. "She really set the tone for what is acceptable here." The clear show of acceptance of diverse backgrounds was part of what finalized Manzoor's decision to attend MSU.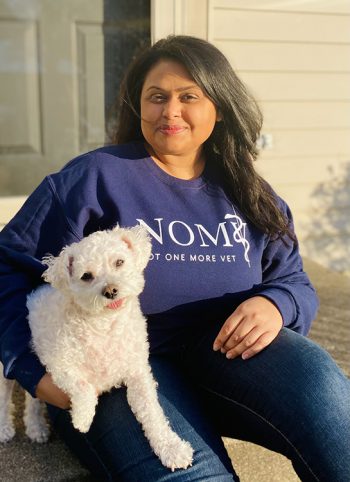 HOW TO GET INVOLVED AND LOOKING TO THE FUTURE
Manzoor has a lot on her plate, from involvement in clubs to outreach, and her studies to her personal and family life. She admits it has taken considerable commitment to juggle it all. However, she has advice for students who are interested in DEI work: "You don't always have to be doing something grand to make your presence felt." She states the key is joining in and helping out where you can. "There's a lot of really good projects and ideas already floating around, so a lot of what I do is I try to jump in and help because they always need students to be more active in these kinds of things."
The increasing number of student-led DEI initiatives means it's easier than ever to engage in community and add to the growing body of students, like Manzoor, making change. "I'm very passionate about hearing everyone out, I'm passionate about creating inclusive spaces for everyone, so if there is one thing that I want people to know about me going forward, it's that I advocated to create inclusive environments."