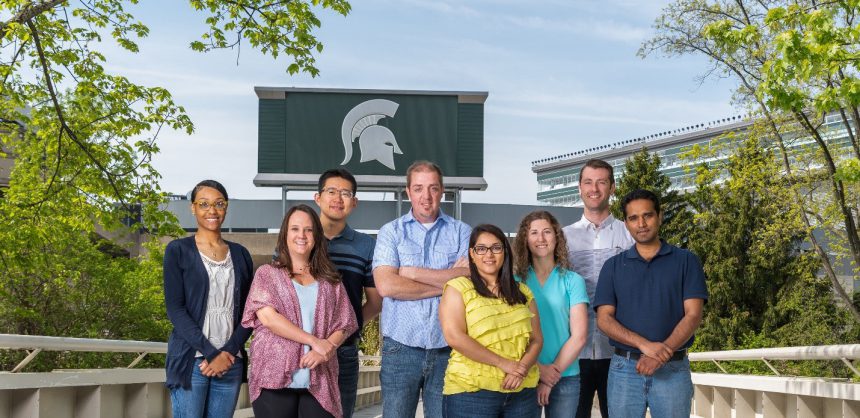 Dr. Adam Moeser, DVM, MS, PhD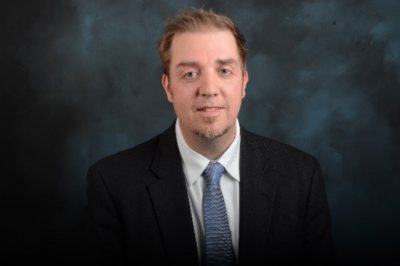 Associate Professor and Matilda R. Wilson Endowed Chair

Dr. Moeser joined the MSU College of Veterinary Medicine's Department of Large Animal Clinical Sciences as associate professor and Matilda R. Wilson Endowed Chair in 2015.
He directs the Gastrointestinal Stress Biology Laboratory (GISBL). Dr. Moeser grew up in Massachusetts and earned a BS degree from the University of Massachusetts at Amherst in 2000, a master's in Animal Nutrition in 2001, PhD in Physiology (under the direction of Anthony Blikslager) in 2006, and DVM in 2008 from the North Carolina State University. During his doctoral research at North Carolina State University, he studied mechanisms of intestinal injury under Dr. Anthony Blikslager, DVM PhD DACVS, Specifically his dissertation work focused on the role of intestinal epithelial ion transporters in the repair of intestinal barrier function following acute intestinal ischemia in porcine and murine models. Dr. Moeser was a recipient of NIH T32 post-doctoral fellowship based at The University of North Carolina at Chapel Hill (Center for Gastrointestinal Biology and Disease). He received an NIH K08 award from the NIDDK in 2008 where he trained under the mentorship of Dr. Soman Abraham (Duke University) in the area of Immunogy/mast cell biology.
Dr. Moeser has a passion for training the next generation of clinician and basic scientists and his trainees have received numerous accolades including prestigious NIH F30 and K01 awards, and have obtained competitive positions as post-docs, tenure-track faculty, industry scientists and directors and clinicians.
Kyan Thelen, MS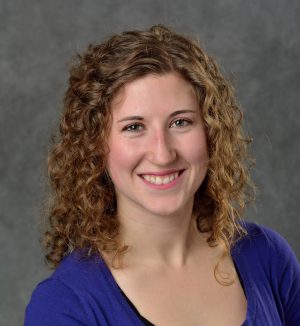 Laboratory manager and research associate

Kyan joined the GISBL in 2018 as a laboratory manager and research associate. She obtained her BS degree in Animal Science in 2015 and her MS degree in Comparative Medicine and Integrative Biology in 2017, both from Michigan State University. Her MS research, under Dr. Andres Contreras, focused on adipose tissue biology and modeling perivascular adipose tissue.
Nidia Maradiaga, MS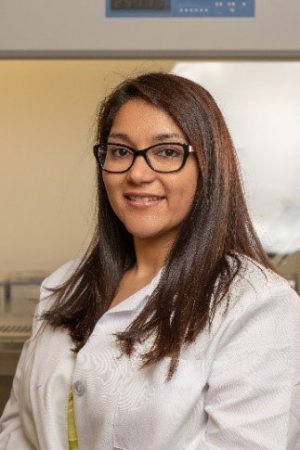 PhD student

Nidia joined the GISBL lab in 2017 and is a pursuing a PhD through the Comparative Medicine and Integrative Biology program at the College of Veterinary Medicine at MSU. Nidia obtained her BS in Microbiology from the Universidad Nacional Autónoma de Honduras at Tegucigalpa, Honduras. She received a Master of Science degree in Veterinary Clinical Medicine from the University of Illinois at Urbana-Champaign under the direction of Drs. Jim Lowe and Brain Aldridge) which focused Impact of cross-fostering on the intestinal microbiome and mucosal immune gene expression in neonatal pigs. Nidia's dissertation research in the GISBL is focused on epigenetic programming of mast cells in animal models of early life adversity and brain-gut axis disorders.
Erika Sarno, BS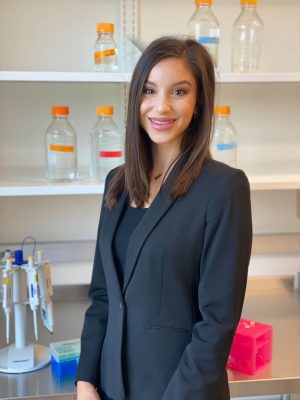 PhD student
Erika Sarno graduated from the University of Scranton in 2016 with a double major in Biochemistry, Cell and Molecular Biology, and Philosophy. In 2016, she was accepted to the DO/PhD Program at Michigan State University through the College of Osteopathic Medicine and the Biomedical Sciences Program. Upon entering the Program, she joined the Pharmacology and Toxicology Department and the Robison and Gastrointestinal Stress Biology Lab, where she studies the role of ΔFosB in mast cells. In her free time, she enjoys running, yoga, and spending time with her cats.
Mahsa Fardisi, MS, PhD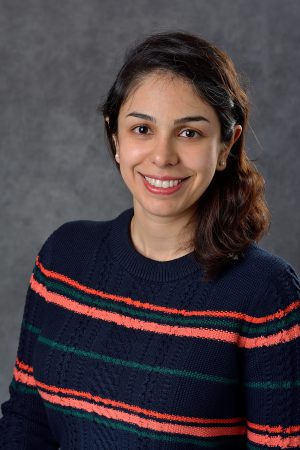 Research assistant I
Dr. Mahsa Fardisi joined the GISBL in August 2019 as a research assistant I at MSU. She obtained her MS (2011) and PhD (2015) degrees in Entomology at Purdue University West Lafayette, IN. Her graduate research focused on food and feed susceptibility to post-harvest insect pests and how insect behavior and physiology affect their development. She was a postdoc (2015-2019) at the Center for Urban and Industrial Pest Management at Purdue, focusing on controlling German cockroaches while reducing their resistance to chemicals. In Dr. Moeser's lab, her project focuses on interaction between biological sex and early-life adversity (ELA) on gut immune development in pigs.
Natalia Duque Wilckens, DVM, PhD
Post-doctoral research associate

Dr. Natalia Duque-Wilckens joined the GISBL in September 2018 and will be co-mentored by Dr. AJ Robison (MSU Dept. of Physiology/Neuroscience). "I trained in veterinary sciences at the University of Chile. During this time I had the opportunity to work closely with different animal species in hospitals, farm, and laboratory settings, which raised a deep interest in understanding how affective states interact with other physiological variables to affect health and well-being. This led me to join the Animal Behavior Graduate program at UC Davis, where I used behavioral, pharmacological, and molecular approaches to identify neural circuits modulating social anxiety in California mice. I am really excited to join Dr. Moeser's and Dr. Robinson's labs to study how stress can affect the programming of the immune system during early development, and how that may result in long-lasting changes in gastrointestinal health, neurobiology, and behavior across species".
Andrew Roney, BS
MS student
Andrew Roney is an MS student in the Comparative Medicine and Integrative Biology Program. He obtained his BS in Animal Science in 2019 from Michigan State University. He joined the GISBL as a graduate research assistant in 2019, and his work centers around perinatal androgens in swine and their role in long-term immune development and short-term immune response to early-life adversity.
Vedrana Bali, MD, PhD
Postdoctoral Researcher
Dr. Vedrana Bali obtained her MD from the University of Zagreb School of Medicine in Croatia. During this time, she studied biomarkers of invasive types of breast cancers as potential prognostic clinical markers. Dr. Bali next completed a one-year internship at the University Psychiatric Hospital Vrapce in Zagreb and then moved to the United States to obtain her PhD in Cell Biology from the University of Alabama at Birmingham. Her dissertation work focused on various factors affecting intracellular processing and stability of cystic fibrosis transmembrane conductance regulator. In 2016, Vedrana joined Dr. Mazei-Robison's group at MSU to study molecular mechanisms underlying neuropsychiatric disorders using animal models in combination with biochemical and behavioral techniques, considering the prevalence of mood disorders in women and growing evidence suggesting an important role of immune system activation in development of depressive disorders and responsiveness to treatment. Vedrana joined the GISBL in 2019 and is currently co-mentored by Drs. Michelle Mazei-Robison and Adam Moeser. Dr. Bali is now studying the role of biological sex in perinatal programming of mast cells and its effects on sex-biased diseases.
Samantha Hahn
Research Assistant
Sam joined the lab in 2019 as an assistant. She graduated with her BS in Animal Science from Michigan State in 2018. She is currently working on her Master of Public Health degree here at Michigan State. She plans to pursue veterinary school following her Master's program completion.
Lab Alumni
Saru Ayyadurai, PhD – Post-Doctoral Research Associate (2014-2017). Saru's post-doctoral research focused on the role of the mast cell-CRF1 receptors as modulators of stress-induced mast cell activation and associated disease pathophysiology. He is currently employed as QC Scientist at Cytovance Biologics, Oklahoma City, OK
Beth Overman Cauley, PhD – Dr. Overman was the first graduate student in the GISBL and received her PhD in Physiology in 2011. Dr. Overman's dissertation research focused on the role of intestinal CRF signaling in stress-induced intestinal barrier dysfunction in porcine models. Beth is currently an Assistant Professor at Campbell University in Buies Creek, NC.
Amelia Gibson, PhD MBA – Amelia received her PhD in 2012. Her dissertation research focused on the role of mast cell CRF receptor subtypes, CRF1 and CRF2, in modulating mast cell degranulation and stress-induced intestinal permeability. In 2012, Amelia joined KeraFast, Inc. (Boston, MA) as Director of Business Development.
Liz Lennon, DVM PhD DACVIM – Liz received her PhD in 2015. Her dissertation research focused on the impact of ELA and mast cells in the IL10-/- murine model of spontaneous colitis. She was awarded an NIH K01 Award, and is currently an assistant professor of Small Animal Internal Medicine at the UPenn, College of Veterinary Medicine, where she is investigating the role of mast cells in inflammatory bowel disease.

Yihang Li, PhD, Dr. Li joined the GISBL in 2015 where he conducted his post-doctoral research focused on the regulation of and mechanisms by which stress regulates intestinal epithelial nutrient transporter function and role in nutrient partitioning in immune and adipose tissue. In 2018, Yihang was recruited to the University of Delaware where he is an assistant professor of Physiology in the Department of Animal Science.
Julia Medland, MS– Julia received her MS degree in 2015 from the GISBL. Her MS thesis, entitled "Development of the Enteric Nervous System in a Porcine Model of Early Life Stress: Implications for Long-Term Intestinal Disease Susceptibility" focused on the impact of ELA on development of the enteric cholinergic nervous system expression and function. Julia is currently pursuing a DVM degree at NC State University, College of Veterinary Medicine.
Calvin Pohl, DVM PhD- Dr. Pohl earned his PhD from the GISBL in 2018. His dissertation research was focused on understanding the impact of psychological and infectious stressors on enteric cholinergic system development and function and its subsequent effects on GI barrier and immune function in murine and porcine models. Dr. Pohl is currently pursuing post-doctoral research training at Abbvie (Chicago, IL).
Mrigendra Rajput, BsVet, MS PhD- Dr. Rajput joined the GISBL in January 2015. Hi research in the GISBL focused on the influence of early life stress, associated with management practices in swine, on immune development and vaccine responsiveness. In 2018, Dr. Rajput accepted an Assistant Professor position Arkansas Tech University.
Emily Mackey, BS, PhD- Emily Mackey is a 4th year DVM student in the Comparative Biomedical Sciences Program at North Carolina State University. Dr. Mackey's PhD dissertation research, under the mentorship of Dr. Moeser, investigated the biological mechanisms of sex differences in mast cells, specifically the role of perinatal androgens in programming mast cell phenotype and severity of anaphylaxis (funded by an NIH F30 Award). In the summer of 2020, Dr. Mackey will pursue advanced training in veterinary pathology as a resident in the Wake Forest University veterinary pathology program.
Neco Wilson, BS, MS- Neco Wilson received her MS degree in 2019 under the direction of Dr. Moeser in the CMIB Program at MSU. She obtained her BS degree from Michigan State University. Neco's graduate research investigated how postnatal age influences intestinal mast cell activation triggered by weaning stress in piglets. Neco was an MSU BEST (Broadening Experiences in Scientific Training) Trainee, a facilitator for the Summer Research Opportunities Program (SROP), and graduate student committee member and assistant editor for the Alliance for Graduate Education and the Professoriate (AGEP). Neco is currently a program assistant at the Graduate School at Michigan State University.