Posted September 09, 2019

Katherine Lesko (Hybl) is a third year student in the Michigan State University College of Veterinary Medicine's Doctor of Veterinary Medicine program. She grew up in Northern Michigan, five minutes from the beautiful Torch Lake, and graduated from Siena Heights University with a bachelor's degree in biology in 2017. She talks about her internship experience below.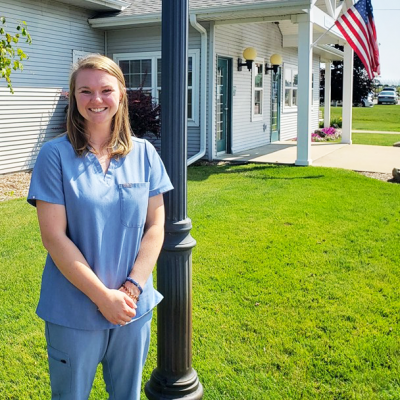 When people asked me why I wanted to be a veterinarian they were always puzzled when I answered that I loved helping people. Growing up, there was nothing more sacred to me than the animals my family had. Veterinarians don't just heal animals, they heal the owners, and that is what I fell in love with.
This summer I had the pleasure of working through an internship at West Branch Veterinary Services (WBVS) in West Branch, Michigan. WBVS is currently a two-doctor practice, practicing small animal medicine. I started this internship in May and ended in August, and it was a very rewarding three months.

I found that the first two years of vet school prepared me for this internship perfectly. I felt comfortable discussing a lot of medications, diagnostics, and physical exam findings with the doctors and I can't thank my professors enough for everything they taught me.

Although I was comfortable with my skillset at the beginning of the summer, this internship still taught me a lot. Specifically, I learned a lot about how to manage ophthalmology cases, neurologic cases, dentistry, and communication with staff and clients. Lastly, I found that I learned a lot about the business of running a veterinary hospital. The doctors were so informative about how they run the hospital and the tricks that they have learned over the years of being business owners.
While at my internship, I was able to practice many things I had learned in my first two years as a veterinary student, including:

Taking thorough histories of each pet and preparing them for the doctor to see and examine
Talking through cases and diagnostic plans with the doctors
Practicing skills we learned in surgery, like placing an IV catheter
Practicing diagnostic skills, like performing vertebral heart scores on chest radiographs for the doctors
Learning parasite and vaccine protocols
I wouldn't be doing my internship justice if I did not mention how helpful the technicians and assistants were. Not only did they teach me critical skills, but they were so welcoming and gracious when I needed help. They were irreplaceable when it came to my education this summer. It didn't take me long to feel like I was truly part of the team, working alongside the doctors and technicians 8:00 a.m. to 7:00 p.m., five days a week.
This summer went by so fast and before I knew it, I only had a couple weeks left. I think the biggest accomplishment from this internship is that I was offered a position to work at WBVS as a veterinarian as soon as I graduate. I am so happy that I get to return and work alongside this team to provide advanced veterinary care to northeastern Michigan. I've always loved general practice for small and large animal, and I think this will be a perfect fit for me after graduation.
I encourage everyone to seek out an internship or externship experience when they can. I think it is important to experience medicine and relationships outside of the College, to test the skills we have all learned.