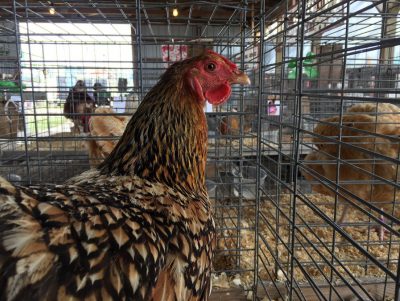 Veterinary medicine plays a huge role in our food industries, and poultry is no exception. Chicken is one of the most commonly consumed meats in the United States and eggs are one of the best sources of protein, including all nine essential amino acids. In addition, Michigan is one of the top egg-producing states in the country. So, it is imperative that veterinarians work with Michigan farmers to maintain the health of our poultry, which ensures food availability and safety.
As a student assistant for the Michigan Department of Agriculture and Rural Development (MDARD) in the poultry program, I am conducting an avian influenza (AI) surveillance project at several of the Michigan fairs. The sample collection process involves taking a sterile swab to the bird's throat. These samples are then transported in a broth media to MSU's Veterinary Diagnostic Laboratory for testing. The goal is to collect samples from different parts of the state to show that Michigan is AI free.
AI is a viral disease that is found in two different forms, high pathogenicity and low pathogenicity. Highly pathogenic avian influenza (HPAI) is a bigger concern due to its high mortality rates. Low pathogenicity avian influenza (LPAI) is less severe and may cause mild or no illness. The AI virus infects domestic poultry such as chickens, turkeys, and quail. Because of the severity of this disease, AI can have a massive impact on the poultry industry as a whole, therefore affecting our food supply.
Although my project involves testing mainly backyard and 4-H poultry which likely don't contribute a great deal to the food industries, I've had the chance to do some AI testing in large poultry facilities this summer as well. Regularly performing surveillance helps us control and contain the spread of AI in our Michigan poultry. It's best to catch any disease outbreaks early before they spiral out of control.
For example, if a small backyard poultry flock tested positive for HPAI, that farm would likely be depopulated if the disease itself didn't take all the birds. In addition, all other locations that house poultry within a certain radius of the infected flock would be quarantined as a precaution, despite being disease free. This means there would be movement restrictions on animals and animal products to prevent the potential spread of disease.
In this scenario, if a major egg-layer facility for the state of Michigan lies within the radius of the infected premises, we could undergo a major egg shortage. This facility would have movement restrictions until their birds were proven disease free or the quarantine was lifted, therefore preventing the movement of these eggs to grocery stores and other sellers. As a result, thousands of eggs would spoil and go to waste. Taking proper biosecurity measures along with regular testing for disease can prevent situations such as this.
Along with the goal of proving that Michigan poultry are AI free, we want to show the value in conducting surveillance for infectious diseases, such as AI. I am excited to play my part in to keep Michigan poultry disease free and maintain the quality of our food supply.