Tuition
Michigan State University sets the tuition for all colleges at the university, including the College of Veterinary Medicine. Each year, there is an adjustment to the annual tuition, so it is important for planning purposes to keep up to date regarding financial changes.

The Controller's Office website offers the most up-to-date, and situation-specific information about tuition, billing, and student accounts.
Please see University budget estimates on the Office of Financial Aid's website in financial planning.
Financial Aid
In order to be considered for any College of Veterinary Medicine scholarships, the Free Application for Federal Student Aid (FAFSA) must be submitted. The MSU Office of Financial Aid provides extensive information regarding financial aid and loans for veterinary medical students.
For further details, please visit the Office of Financial Aid's website.
Scholarships
The MSU College of Veterinary Medicine uses the MSU scholarships system, AcademicWorks, to manage scholarships. DVM and veterinary nursing students will be invited to complete a conditional application each year to update their information and interests.
Scholarships will be awarded in the spring and summer for the following academic year.
The MSU Veterinary Nursing Program offers additional scholarships for current veterinary nursing students. Please email CVM.VetNursing@cvm.msu.edu for more information regarding scholarships. For information regarding financial aid, please visit the MSU Office of Financial Aid.

Note: Scholarships applied to your account may reduce your current financial aid loans and/or grants.

Scholarship Application Process
You will not need to apply directly for scholarships. You will only need to update your information and interest in AcademicWorks annually.
AcademicWorks and Free Application for Federal Student Aid (FAFSA) information will be used to match available scholarships with students that qualify.
Scholarship recipients will be notified via email if they are selected for an award.
* Recipients of scholarships will be notified by the CVM Development and Alumni Relations if a thank you letter is required. If a required thank you letter is not received the recipient of the scholarship will not be considered for any future internal scholarship. For questions, please contact us at scholarship@cvm.msu.edu.
Benefits for Students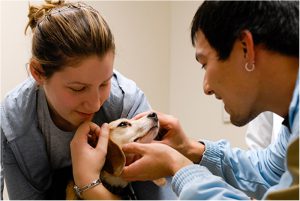 The College will be able to award funds to eligible students on a rolling basis.
Students will not need to spend countless hours writing essays and completing applications.*
* A select group of scholarships still require an application. For these specific funds, students will be notified to submit the required application.
Who is Eligible?
Scholarships are awarded to students who demonstrate outstanding intellectual ability or special achievements. Thanks to the generosity of College alumni and friends, we have a rapidly growing number of scholarships for a highly deserving student body.
Attention: Donors set specific criteria for scholarships. If a student does not match requirements set by donors such as financial need, academic criteria and/or interest, the Scholarship Team is unable to award funds.
Types of Scholarships
There is a wide array of available scholarships, including scholarships for tuition, conferences, and educational materials. We are diligently working to attract more scholarship endowments to support our veterinary medical students. The leadership at the College is committed to spreading resources across the student body.
Outside scholarships opportunities are shared via email from scholarship@cvm.msu.edu. Often, outside scholarships entities will require applicants to submit required materials directly to them.
The Office of Financial Aid at MSU College of Veterinary Medicine aims to help students with grants, scholarships, and loans. The Office of Financial Aid has developed an online system called eFinaid where students can access the status of their financial aid.
The College of Veterinary Medicine also provides students with three financial aid officers. These officers can assist in all matters related to financial aid.
Office Locations:
252 Student Services Building
C18-F East Fee Hall

Mailing Address:
Office of Financial Aid
Michigan State University
252 Student Services Building
E. Lansing, MI 48824-1113
Phone: (517) 353-2401

Fax: (517) 432-1155

Scholarship Thank You Letters
The College of Veterinary Medicine Office of Development and Alumni Relations will connect with students regarding scholarship thank you letters.

External Scholarship Opportunities
As external scholarship opportunities become available, information will be shared with students via email from scholarship@cvm.msu.edu.