History and Diagnosis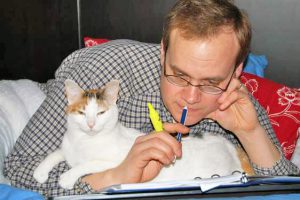 Kitton, a 14-year-old spayed, female, Domestic Short-hair cat, presented to the Michigan State University Veterinary Medical Center's Radiation Oncology Service on Wednesday, November 14, 2018, for evaluation of a suspected nasal mass after a several-month history of nasal discharge, sneezing, and stertorous breathing that was not responsive to antibiotic therapy. Kitton's owner is a veterinarian and performed skull radiographs at his hospital, which revealed a soft tissue opacity in her right nasal cavity. Bloodwork performed at this time revealed a moderate anemia and changes consistent with chronic kidney disease.
On presentation to the Radiation Oncology Service, Kitton was bright, alert, and responsive. Abnormalities identified on her general physical exam included thick, brown, mucoid, right-sided nasal discharge. On auscultation of her lungs, increased referred upper airway noises were present and appeared to be secondary to nasal obstruction.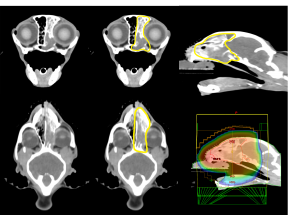 Kitton was placed under general anesthesia and underwent a CT scan of her whole body. The most significant finding was an aggressive right nasal mass with invasion into the frontal sinus, as well as the sphenopalatine recess, nasopharynx, cribriform plate, and the right olfactory lobe. The primary differential was neoplasia, such as lymphoma with paraneoplastic olfactory meningeal enhancement and mass effect. A soft tissue nodule on the cranial subsegment of the left cranial lung lobe also was discovered and represented either a metastatic/multicentric neoplasia or an incidental granuloma. Other findings included a right cranial ventral alveolar pattern with a pulmonary bleb and right cranial bronchomalacia, hepatic cystic masses (presumed biliary adenomas), an incidental bilobed gallbladder and pancreatic duct dilation, bilateral chronic renal disease with small nephroliths, probable left atrial dilation, left medial iliac and hypogastric mild lymphadenopathy, and mild right adrenomegaly.

A nasal biopsy was performed; an impression smear caused concern for an expansion of intermediate and large lymphocytes consistent with lymphoma. Histopathology revealed marked chronic neutrophilic and lymphoplasmacytic rhinitis. Unfortunately, submitted samples of the mass were mainly composed of hemorrhage, fibrin, and neutrophilic debris (inconclusive). This was not representative of the mass noted clinically. Though a definitive diagnosis could not be reached, nasal solitary site lymphoma was highly suspected.
Ultimately, Kitton's list of problems included an infiltrative right-sided nasal mass, chronic kidney disease, moderate stable anemia, and possible heart disease.
Treatment and Outcome
Full-course radiation therapy, palliative radiation therapy, and medical management were discussed with Kitton's family. Full-course radiation therapy involves one treatment per day for a period of three weeks, under general anesthesia. Some cats also are candidates for chemotherapy. Most cats tolerate chemotherapy extremely well and can live two years or longer after treatment, but given Kitton's age and comorbidities, there was concern that she may not be the best candidate for aggressive intervention. Palliative radiation therapy can be delivered with the goal of alleviating symptoms; specifically, for Kitton, this would mean decreasing her nasal discharge and allowing her to breathe more comfortably. In general, the course of treatment is much shorter, only five days total, but still provides significant benefit to the patient for a period of six to nine months. Medical management with oral prednisolone and pain medications also is possible but is generally only effective for several weeks or months.
Based on Kitton's age and chronic kidney disease, her owner elected to pursue palliative radiation therapy. Her CT scan was used to generate a three-dimensional conformal radiation therapy (3D-CRT) treatment plan, which allowed all of her visible tumor to be treated, but also protected as much of her normal surrounding tissues as possible. Her prescription was 4 Gray, once daily, for 5 consecutive days to a total of 20 Gray.
Kitton was hospitalized for the week at MSU for monitoring and to allow her owner to continue to care for his own patients. Each morning, she was placed under general anesthesia, positioned for radiation therapy, was treated with photon radiation therapy, and then was recovered immediately after. She recovered uneventfully and ate well each day. Kitton developed a grade 2/6 heart murmur after her CT scan that was intermittently appreciated on morning physical exams. No treatment was required. By the end of her course of treatment, her nasal congestion and airway noise significantly improved. She was discharged with oral prednisolone as an adjunctive treatment to radiation therapy for solitary site lymphoma.
No side effects of radiation therapy were reported after Kitton's discharge from the Hospital. She continues to receive a low dose of prednisolone daily. Today, more than four months after treatment, Kitton continues to do well at home.
Comments
Kitton's histologic findings were consistent with an inflammatory process; however, the appearance of her mass and the history of her symptoms were highly suspicious for lymphoma. Additional staining for fungal organisms was negative, further supporting the diagnosis of lymphoma.
Clinicians presumed that Kitton's cancer could be classified as a solitary site lymphoma. The nasal cavity is one of the most common anatomic locations for this type of cancer in cats, and usually remains localized there. It can spread elsewhere, in disseminated form, in 15–20 percent of cases.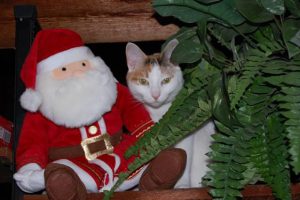 Unfortunately, in Kitton's case, the cancer is incurable. However, MSU veterinarians hope that radiation therapy will help her feel more comfortable for a period of time. Kitton's full body CT showed evidence of cyst- or mass-like structure on her liver; a single, soft tissue nodule within her lungs (neoplasia or granuloma); evidence of renal degeneration; and probable enlargement of the left atrium. While these findings were important to be aware of, her nasal disease remained her most significant problem.

While radiation therapy can cause rapid and significant changes to a tumor even after a few treatments, there are always side effects to consider. Kitton's owner was informed that there was a chance of irritation to her eyes, the roof of her mouth, or surrounding skin. The chances of developing these side effects after palliative radiation therapy are extremely low. Fortunately, Kitton never experienced any acute side effects of radiation therapy. There also was a chance that the fur near her tumor would change color or texture throughout time, or that her sense of smell would be affected. Severe side effects, such as development of a communication between the mouth and the nose (oronasal fistula) or nose and skin (nasocutaneous fistula) occur in less than five percent of patients.
It is encouraging, as in Kitton's case, when the patient is eating well. However, it is possible that they may have more difficulty eating as time goes on. This could happen in the face of treatment (tumor progression) or due to treatment (development of side effects).